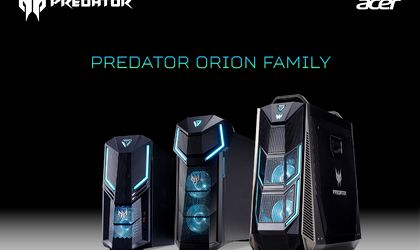 Acer today announces support for the latest NVIDIA GeForce RTX graphics cards on Predator Orion series gaming platforms. Thanks to the new graphics processing units powered by the new NVIDIA Turing architecture, the Predator Orion 9000, 5000 and 3000 gaming platforms will deliver incredible levels of realism, speed, energy efficiency and immersion.
"We are pleased to be among the first to offer gamers the ability to use the latest NVIDIA GeForce RTX graphics cards on our Orion series gaming platforms," ​​said Jeff Lee, general manager, Stationary Computing, IT Products Business, Acer Inc. "Following our promise to deliver the latest technology on time, players will be able to enjoy the latest breakthroughs in graphics for an incredible gaming experience."
The new NVIDIA GeForce RTX GPUs reinvented graphics and set a new record for performance. Powered by the new NVIDIA Turing graphics architecture and the revolutionary NVIDIA RTX platform, the new graphics cards offer real-time ray tracing and new AI capabilities. The new GPUs were presented at the NVIDIA two-day event called GeForce Gaming Celebration, which took place on August 20 at Palladium Cologne, Germany, before Gamescom 2018.
Predator Orion platforms offer players a range of powerful gaming PCs tailored to the needs of users and expanding their user experience. Orion 5000 is a gaming beast designed for professional gamers, Orion 3000 is aimed at users who are at the beginning of the gaming experience, and the Orion 9000, with NVIDIA GeForce RTX 2080 Ti top graphics and processors up to 18 cores, is a machine to which every player dreams, being for the most demanding users.
"Together with the powerful Orion series platforms, our new GeForce RTX graphics cards offer consumers incredible experience," said Tim Bender, vice president of Consumer Sales at NVIDIA. "With innovative technologies including real-time ray tracing and ultra-fast GDDR6 memory, we're thrilled that the new GeForce GTX 2080 Ti and 2080 graphics drives help Acer to revolutionize the realism and performance of games."
The new Predator Orion 9000, 5000, and 3000 series features all 16.7 million RGB new RGB chassis lighting technology and fans, with preloaded lighting patterns and modes that users can choose and customize through pre-installed PredatorSense. Changing lighting patterns can be triggered by personalized events, for example, users can set the lighting on the RGB LED fans and bars to watch the music played by the PredatorSense music player.
Predator Orion 9000 Series: A dream machine
With the ability to run virtual reality applications with ease and support over 8K UHD, the Acer Predator Orion 9000 gaming series is equipped with the latest NVIDIA GeForce RTX 2080 Ti graphics cards and processors up to the Intel Core i9 Extreme Edition with 18 cores and 36 threads. The design is impressive with a space-saving outer spacecraft, black with silver, customizable ARGB illuminators (RGB) and RGB LED fans. A massive window features an impressive and powerful interior with a design that maintains electromagnetic interference (EMI) levels within normal limits, despite the opening size. Acer IceTunnel 2.0, an advanced solution for managing airflow, separates the system into multiple thermal zones, each with an individual air tunnel, to eliminate heat.
Predator Orion 5000 series: A benchmark
Predator Orion 5000 series gaming platforms offer up to the latest NVIDIA GeForce RTX 2080 graphics cards and 8th to Intel Core i7 + 8700K processors. Like the Predator Orion 9000 model, the Orion 5000 chassis has a transparent side panel to showcase high-performance internal components and includes IceTunnel 2.0 airflow management technology to keep the system cool.
Predator Orion 3000 series: Top performance and style
With the latest NVIDIA GeForce RTX 2070 graphics cards and 8th to Intel Core i7 + processors, the Predator Orion 3000 is VR-ready and supports 4K resolution games. It can be configured with an Intel Optane memory up to 32GB and up to 64GB of DDR4-2666 RAM to support fast action like lightning during battles in the latest games. Excellent heat dissipation is achieved with a front LED ventilator, with mesh cover and rear outlet, for optimized airflow on the chassis.