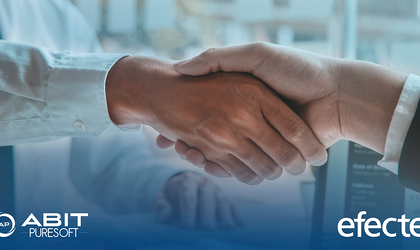 ABIT Puresoft and Efecte are announcing the anniversary of their official partnership on the Romanian market. An established European alternative on Service Management market, Efecte is present through local partners in more than 22 countries, with ABIT Puresoft being their only authorized partner in Romania.
"ABIT Puresoft has long understood the power of Service Management and how greatly it can improve a company's performance. By bringing Efecte on the Romanian market, we were able to provide a new ITSM solution to our customers, many of whom were impressed by how easy they were able to adapt the platform to their business needs without the need for programming skills." Alexandru Banica, CEO ABIT Puresoft.
—
 "We value our partnership with ABIT Puresoft on a very competitive IT market like Romania. We are pleased to be able to provide our solution to customers looking to automate and digitalize their business with Cloud Based Service Management", Harri Väänänen, Partner Success Manager Efecte.
Efecte has over 21 years of experience in helping customers digitalize and automate their work with IT Service Management, Identity Governance and Administration, and Enterprise Service Management solutions. The Efecte SaaS Platform allows organizations to manage and automate any service in the company. These include IT service workflows, ticketing, business workflows, customer service, and many more. The platform is deployed securely from a cloud in Europe but can also function as an on-prem solution on customer's private cloud.
ABIT Puresoft supports organizations to improve and develop their business performance through digital transformation, from consulting and design to implementation, training and support. Our services include Consulting and Advisory, Development and Implementation, Enterprise Integration, Business Process Outsourcing, and Support. We are also official partners of Efecte, UiPath and ServiceNow. We design and deliver innovative technology experiences that help our customers achieve business agility. Our solutions blend results-driven digital transformation strategies and data engineering at scale.
For more information, please visit www.abitpuresoft.ro.