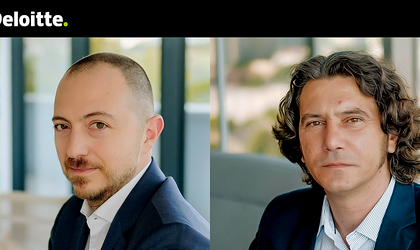 Nine in ten companies think cloud is essential for growth, especially used in combination with other technologies such as artificial intelligence (AI), internet of things (IoT) and analytics, according to the latest edition of Deloitte Future of Cloud Survey. Similarly, nine out of ten respondents (88%) view cloud as a cornerstone of their digital transformation and believe it is vital to driving revenue and maintaining a strong position in the marketplace.
The report underlines that cloud investment increases efficiency and agility (for 88% of respondents), creates new operational processes and workflows (87%) and mitigates business and regulatory risks (83%). Nevertheless, there is still room for growth when it comes to cloud investments' contribution to enabling innovation to support the companies' strategic priorities. According to the survey, respondents' top strategic priorities are increasing efficiency and agility (89%) and developing new ideas, approaches or methodologies (84), yet these areas are not where most organizations are innovating. Instead, surveyed organizations reported they were successful in driving innovation in areas such as mitigating business and regulatory success (73%) and expanding existing products or service revenue (71%).
"Organizations across the globe and in Romania have definitely made significant steps in the journey to the cloud, but some of them are still not fully aware of the diversity of benefits arising from this type of investments. Most of them focus primarily on increased speed and overall efficiency and on cost optimization, but cloud solutions can be leveraged to the benefit of many other areas, such as risk management, business continuity or product development. Also, it is important that real benefits of cloud are felt by individuals and companies in their relationship with the public authorities, and the development of government cloud is crucial to this end. For instance, our country has adopted a legislative framework aiming to establish a national cloud infrastructure and allocates a total of almost 6 billion euros to digitalisation, with over 370 million euros for cloud infrastructure investments, through the National Plan of Recovery and Resilience," stated Andrei Ionescu, Consulting and Risk Advisory Partner-in-charge, Deloitte Romania.
The survey reveals that the top three technology areas in which companies use cloud services are data analytics (86%), followed by software engineering (83%) and cloud cyber (82%). In fact, many organizations benefit from using risk-related solutions such as cloud cybersecurity, as nine out of ten surveyed companies (91%) have updated their business and operational strategies to enhance cloud security, risk and controls. The study also highlights that improving the organization's ability to detect and address security risks or threats (64%), followed by addressing regulatory compliance requirements more efficiently (58%) and adopting zero trust methodologies (49%) are the top potential outcomes that respondents want to achieve with cloud cyber.
Companies are also ahead in emerging technology areas such as cloud-native development (73%), which enables the creation and the deployment of applications that leverage the natural agility of cloud. Across all respondents, the top-ranked need for cloud-native solutions is related to customer management (50%), including customer engagement, segmentation and other related areas. This is followed by the supply chain (42%), core operations (39%) and finance (36%) sectors.
"Advanced cloud services such as cloud native development, a market that will reach 750 million cloud-native applications globally by 2025 according to International Data Corporation, could be a game changer for organizations that want to enable digital transformation, customer facing processes and front office capabilities. Still, companies might experience challenges in their pursuit if they don't calibrate the efforts in this direction with their ability to innovate in line strategic priorities," said Emil Constantinescu, Consulting Senior Specialist Lead, Deloitte Romania.
The latest edition of Deloitte Future of Cloud Survey gathers the opinions of 500 senior cloud-decision makers from US regarding the level of adoption of cloud platforms and services and how organizations use them to boost business performance, drive strategic outcomes and enable innovation.
Deloitte Romania's cloud services combine business insights with a people-first approach to showcase innovative applications of cloud. The local team leverages the knowledge of professionals across several functions such as consulting technology, risk advisory, legal and sustainability, to deliver high-impact projects that help organizations maximize the success of cloud. Additionally, Deloitte Romania calls upon the alliances with cloud hyperscalers, such as Google Cloud, Amazon Web Services and SAP, in order to boost fast scaling and innovating in response to the challenges faced by organizations.
At a global level, IDC named Deloitte a leader in worldwide industry cloud professional services and Gartner ranked the organization, for the second year in a row, as leader in the public cloud IT services market.