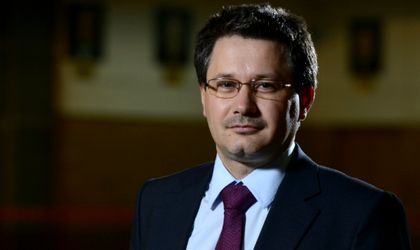 About 4,000 students will graduate this year the undergraduate programs of the 15 faculties of the University POLITEHNICA of Bucharest. The graduation festivities will take place between July 9 and 16.
The employment rate among UPB students increased substantially after the change of the curricula, when, more than 10 years ago, the compulsory practice was introduced at the end of the third year, with a duration of 360 hours. Thus, approximately 60% of UPB students work in the field of engineering they study and approximately 20% work in another field of engineering, compared to the one studied, before completing their studies. About 30% of students found their jobs at the partners in the economic environment where they did their internship.
The average salary of a novice engineer is about 800 euros net / month and can reach up to 2,000 – 3,000 euros / month after the first years of work.
The University POLITEHNICA of Bucharest generates the largest number of engineers in Romania – approximately 6,000 graduates annually (bachelor's and master's), respectively 19% of all graduates nationwide in the fields of information and communications technology, as well as engineering, processing and construction.
"The profession of engineer has changed, compared to the notion of 30 years ago. Through innovative technological solutions, engineers help us to evolve, to build a world where it is easier for us to live. The whole of society needs to be aware of the role of engineers. Romania needs over 600,000 engineers in the next 10 years, and the total number of engineering graduates this year in Romania is 35% lower compared to the market's need, while at UPB we manage to cover only 60% of HR requests from companies. All the industries related to engineering are sounding the alarm regarding the lack of specialists ", explains Mihnea Costoiu, rector of UPB.
UPB is the only university in Romania that launched, 6 years ago, an employment agency – POLIJobs. Approximately 25,000 job offers reached UPB students in the academic year 2021 – 2022, through projects and partnerships developed with various companies, the university having an employment rate of over 91% after the first year of graduation.
Among the main industries interested in UPB students are IT, telecommunications, transportation, energy, and medical engineering.
One of the most important challenges in the near future is the transition to a hybrid education system, which combines physical classes with virtual ones, thus capitalizing on the experience gained during the pandemic for the online area.
Also, by 2027, UPB will be recognized nationally as a pole of excellence in digital services and solutions in university education.
"Through digitalization and a hybrid education system, we offer students the opportunity to learn, but also to work simultaneously. The average graduation grade, after the full cycle of university studies, in 2022 was 8, being representative for the quality of students. Over 95% of undergraduate graduates continue their master's studies, and over 15% of master's degree graduates enroll in doctorates. Simultaneously with the curricular activities, we also develop entrepreneurship programs, postgraduate programs, but also personal development programs ", says Prof.univ.dr.ing. Horia Necula – Vice Rector.
Research in partnership with different companies, capitalizing on research in order to develop new products and services, innovation and creating start-ups in which students become an active factor, are also part of the strategic direction of UPB.
"The future belongs to technology, and at UPB we have over 80 laboratories and 68 research centers with state-of-the-art technology, in which over 100,000,000 euros have been invested in the last 5 years. Our colleagues use these facilities daily, and the most expressive proof of their activity lies in the over 110 patents filed by the university at OSIM. And others follow, because at UPB everything is constantly evolving, in a community where teachers and students work in teams, supporting each other, to bring the future to the present. ", says Prof.univ.dr.ing. Cristian Doicin – Dean of the Faculty of Industrial Engineering and Robotics.
One of the vital objectives for UPB is related to attracting future students. Most of the graduates from this year's class come from Bucharest, Ilfov, Prahova, Argeș, Constanța, Buzău and Dâmbovița.
For this year's admission, we estimate more than 5,000 enrollments in undergraduate study programs.
"We constantly communicate with the best high schools with exact sciences profiles in Bucharest and the big cities near the capital. For students we organize personal development sessions and thematic conferences, and for teachers of mathematics, computer science, physics, chemistry and economics we offer discussions and workshops on various topics related to the profile of future UPB candidates, as well as increasing student performance. We also have numerous summer schools and projects through which high school students visit us and participate in workshops and practical activities. The main goal is to make students aware that the engineering profession is sustainable and well paid. In these turbulent times in which food, energy, health, security and technology are areas that affect us more and more, engineering is the solution, "explains Gabriel Petrea, UPB Deputy General Manager.
Another important component of our strategy is to attract foreign students. Approximately 2,000 foreign students, coming from over 40 countries,  are enrolled annually in all study cycles. Most, meaning 58%, come from Eastern Europe, 20% from Asia and 10% from Africa.
The University POLITEHNICA of Bucharest has approximately 30,000 students enrolled annually in all cycles of education, 15 faculties and over 1,800 teachers and researchers.