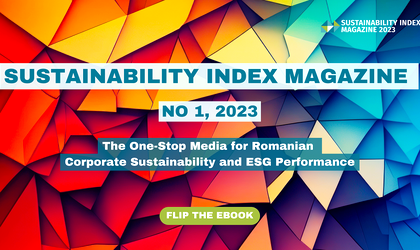 Sustainability Index Magazine follows in the footsteps of Community Index Magazine, the bilingual yearbook that contains the results of the only index of programs and projects carried out by companies in Romania to invest in their communities, launched in 2019. The publication can be useful not only to professionals in the field, but also to local and multinational companies, investors, universities, PR agencies, and authorities.
The first issue of the magazine is over 120 pages long and is offered free of charge to help raise the level of market know-how. It is offered in digital format, as a flipview, and can be viewed here: https://sustainabilityindex.ro/sustainability-index-magazine-2023/ 
What will you find inside Sustainability Index Magazine?
The first edition of Sustainability Index Magazine brings to the fore the sustainability profiles of companies that have published sustainability reports for their activity in Romania. The profiles are set up on several coordinates to have a real and clear picture of the companies' objectives and investments in Romania: the audit of sustainability reports, achieved targets, and future objectives.
The yearbook offers exclusive interviews with experts in the field of corporate sustainability, recognized globally and regionally, such as:
Alice Schmidt, Global Sustainability Advisor and Author of "The Sustainability Puzzle"
Magdalena Krzysztofik, Head of CEE at Steward Redqueen
Simona Stiliyanova, co-founder and Managing Partner at Osnova and ESG and Marketing Director at BlackPeak Capital
Arianne Hofstetter, co-founder of Global ESG Monitor
It also features interviews with nationally recognized personalities with extensive experience in management and sustainability strategies, such as:
László Borbély, State Councillor, Department for Sustainable Development, Government of Romania
Cosmin Ghiță, CEO Nuclearelectrica
Ömer Tetik, CEO Banca Transilvania
Marco Hößl, CEO Kaufland Romania and the Republic of Moldova
Alexandru Stânean, General Director TeraPlast
What is Romania CST Index?
Romania CST Index (Corporate Sustainability & Transparency Index), launched in 2016, is the first ranking in our country dedicated to corporate sustainability. The index identifies the companies with the highest degree of transparency and performance in Romania. For this purpose, it proposes a complex and transparent analysis, aligned with international standards, and constitutes the largest database on the sustainability indicators of companies in the country.
To carry out the analysis, the index uses public data of companies regarding environmental, social and governance aspects. The indicators assessed cover areas such as climate change, sustainable products, labor practices, investment in communities, risk management, responsible marketing or the supply chain, among others. 
What are the main objectives of Romania CST Index?
A sustainability index is important because it is a tool for evaluating a company's performance compared to other players in the industry and in the country. Romania CST Index aims to contribute to increasing the level of transparency regarding sustainability indicators and to recognize the companies with the greatest progress in Romania in addressing the principles and requirements of international standards for corporate sustainability management and reporting.
Thus, Romania CST Index aims to promote corporate sustainability as a responsible business management practice. At the same time, the index can help companies better develop their strategy based on market information.
What are the results of the analysis?
2023 comes with many challenges, but also opportunities for the corporate environment in the EU and implicitly in Romania to integrate sustainability considerations into business decisions. The legislative changes at EU level set ambitious new targets for transparency and ESG performance, but also bring more clarity and coherence.
Romania CST Index analysis indicates a slight increase in the number of companies that publish sustainability reports. We are also seeing progress in setting targets for environmental, social and governance factors, and best practices from industry leaders that point to opportunities for improvement across the sector.
However, the number of companies that publish sustainability reports continues to be reduced, below 10% in 2022 in Romania, out of the total of over 750 companies that have this obligation.
ESG is starting to be integrated in every department of organizations: finance, procurement, HR, or marketing. This change indicates a need to increase the number of trainings on sustainability principles so that all these professionals understand the importance of integrating these principles into their business strategy and practices.
Finally, an important aspect that emerges from the analysis is the need for a data collection and monitoring strategy and infrastructure. The sustainability strategy must include a high number of SMART indicators. Objectives must be measurable, clear and aligned to the industry and specifics of the organization. Analysts and investors need this information to compare various organizations in the same industry and assess who is performing best.