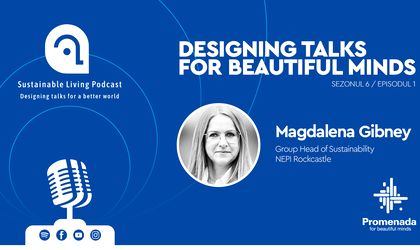 Sustainable Living Podcast (SLP) and Promenada Mall are thrilled to announce the launch of a highly anticipated new season, set to premiere around June 5, 2023, coinciding with World Environment Day.
Dedicated to the promotion of sustainable practices and businesses, SLP provides a dynamic platform for meaningful dialogue on sustainability, featuring engaging discussions with international experts and inspiring real-life examples of individuals who have successfully embraced sustainable lifestyles.
As the world grapples with urgent environmental challenges, SLP continues its mission of educating and inspiring individuals to adopt sustainable practices in their daily lives. This season, in collaboration with Promenada Mall, the podcast will shine a spotlight on sustainability within the wellness, beauty, and cosmetics industry, presenting thought-provoking topics and insights.
Promenada Mall, part of the NEPI Rockcastle portfolio, is renowned for its commitment to sustainability and will play a vital role in this season's discussions. With over 150 stores, Promenada Mall offers a diverse range of sustainable options to shoppers. The mall's expansion project, which adds retail and office space, showcases its dedication to responsible development and growth.
Additionally, Promenada Mall has embraced renewable energy by installing photovoltaic panels across 30 locations, with a planned total installed power capacity of 40 MW. This significant investment underscores the mall's commitment to producing green energy and reducing its environmental impact.
"The Sustainable Living Podcast is excited to collaborate with Promenada Mall in our new season, where we will explore sustainability within the wellness, beauty, and cosmetics industry," said Nicoleta Talpeș, Podcast Host. "Together, we aim to inspire our audience to make sustainable choices and raise awareness about the importance of environmental stewardship."
Together with the partners of Promenada Mall, the new season of the Sustainable Living Podcast will cover a wide range of topics, including circularity, sustainable packaging, mental well-being, consumer education, recycling and upcycling, partnerships, industry goals and commitments, and inspiring customers and industry peers. By delving into these subjects, the podcast seeks to provide listeners with valuable insights, expert advice, and practical tips for living a more sustainable lifestyle.
Magdalena Gibney, Group Head of Sustainability at NEPI Rockcastle, shared her excitement about the partnership, saying:
"We are proud to collaborate with Sustainable Living Podcast and Promenada Mall in promoting sustainable practices within the wellness, beauty, and cosmetics industry. By engaging in meaningful conversations and showcasing inspiring examples, we hope to empower individuals to make conscious choices that contribute to a more sustainable future."
To stay updated on the latest episodes and receive valuable sustainability resources, listeners are encouraged to subscribe to the Sustainable Living Podcast on YouTube channel, Spotify, Apple Podcasts, and Google Podcasts, and follow the podcast on Facebook, Instagram and LinkedIn. For more information about Promenada Mall's sustainability initiatives, visit their website at www.promenada.ro
Join the Sustainable Living Podcast this season as we embark on a journey toward a more sustainable and resilient future. Together, we can make a difference!