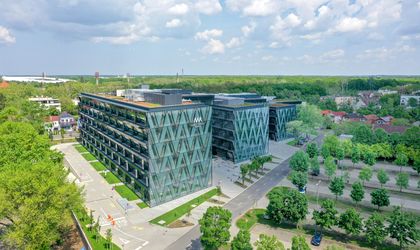 GTC received a Silver Award in EPRA Sustainability Best Practices Recommendations Awards. Such recognition on first-ever participation in the contest proves high standards of environmental, social and governance reporting practices implemented by the Group on the CEE scale.
GTC has successfully debuted in the EPRA sustainability best practices award and achieved silver level compliance with EPRA Sustainability Best Practices Recommendations, scoring high (between 70% & 85%) adherence to the sBPR score. This company became the only real estate developer from Poland to be recognized for the best-in-class sustainability annual performance report. The jury highly estimated practices the Group presented in the detailed ESG report, such as diversity & inclusion, health & safety policies, as well as a comprehensive set of applied environmental solutions, including water and electricity saving practices, in the already existing and planned GTC across all Group countries.
"We are thrilled to be so highly estimated for the sustainable principles we live by as a Group and as a real estate developer, especially given the fact that it's our first time running for EPRA award. Our industry is constantly evolving and sensitive to the changes going on in the world, such as global challenges of the pandemic or climate crisis. With the silver award for our sustainability reporting practices from EPRA, it is good to know we are on the right track with the transparent communication of the pro-environmental and tenant-centric solutions we are implementing across our diverse CEE markets to create sustainable properties with the well-being of our immediate communities in mind" – commented Yovav Carmi, GTC's CEO.
GTC pays particular attention to the development of sustainable buildings across 6 diverse markets in CEE. Care for the tenant's well-being and adjusting to the highest ESG standards is manifested at all stages of property development – from choosing a location for new investment, through design and construction, to the asset management and creating service offer of a completed building. The company has gained its reputation in CEE for high-quality buildings by maintaining premium quality of tenant offer, capitalizing on timeless architecture, and improving the offices with modern sustainable solutions, constantly revitalizing work and outdoor premises with elements that increase tenants' wellbeing (for example, cycling paths).
Since 2021 as many as 84% of the Group's portfolio has environmental certificates, proving their ecological excellence. More information about GTC's sustainable construction and pro-environmental policies can be found in the Group's 2020 ESG report at www.esg.gtc.com.pl/en.