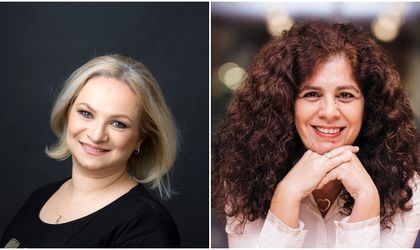 As climate change and its large-scale negative effects are no longer just presumptions but a reality we are all facing on a daily basis, every member of society, including those in the business environment, must behave and do business in a more sustainable way. Business Review talked to representatives of large companies in Romania and highlighted several solutions that can ensure a greener and safer future for the coming generations. Implementing sustainable urban development, water management, and farming, supporting businesses with green finance, and finding ways to lower carbon emissions in all our activities are among the actions that could be part of the solution.
Adina Tudor, Customer Sustainability Partnerships Manager, Coca-Cola HBC Romania: We have been present in Romania for 31 years, as a System composed of two partner companies: Coca-Cola HBC Romania (which operates the production, bottling and distribution network of the product portfolio of Coca-Cola Romania) and Coca-Cola Romania (the company that owns the brands and develops the marketing strategies). From the beginning, we have been developing our local business with great attention to the impact it generates, aiming to leave behind a positive mark. We produce and offer drinks that people appreciate, but we want to do more than that: we want to contribute to a change for the better. For us, sustainability means acting responsibly towards the future, with every step we take, whether it is about the impact of our operations on the environment, about the efficient use of natural resources, the portfolio we offer to consumers, about people and supporting their growth, but also about how we can bring value to the community in which we operate and to which we are deeply connected.
This fall, we are publishing the 8th sustainability report for Coca-Cola HBC Romania and the fourth report that comprises the results of the Coca-Cola System. We are among the first local companies to publish a report according to the highest standards across industries. We have a solid portfolio of sustainability initiatives, some of them pioneering, and a number of local and international recognitions that attest to our commitment to sustainability.
About an efficient water management system and the protection of water resources
Adina Tudor, Customer Sustainability Partnerships Manager, Coca-Cola HBC Romania: Water is the main ingredient in our drinks and access to water is fundamental for our production activity. At the same time, it is a vital resource for the communities in which we operate. Therefore, sustainable water management and reducing consumption are major focus areas for the Coca-Cola System.
We carefully monitor consumption and our strategy includes clear targets for reducing water consumption and treating wastewater from our production processes. One of the important key sustainability performance indicators related to water consumption is the water usage ratio, which means the quantity of water we use to produce 1 liter of beverage. In 2021, the water usage ratio was reduced by 6.34% compared to 2017. This boosts our plans to increase the efficiency of water usage by investing in technologies that allow water to be recycled and recovered and reintroduced into the production circuit, where the technological process allows it.
All of our local plants are certified by Alliance for Water Stewardship. Poiana Negri water plant holds the highest standard, Platinum, while our plants in Ploiești and Timișoara are in the process of transitioning from Gold to Platinum. We are the only beverage producer in Romania to hold this certification.
But this only motivates us to continue our investments in solutions that help us to make our water consumption more efficient in production and we record better results, year after year.  
Sustainability needs teamwork. Only working together with our clients, partners, suppliers, authorities and local communities, we can have a higher impact and contribute to a better world after us.
About The Coca-Cola Company's global water strategy and partnerships for water conservation
Mihaela Niță, Public Affairs Manager, Coca-Cola Romania: At a global level, we aim for "Water leadership" – a vision that reflects the importance of water overall, not only in our line of business, but in our communities as well. Our entire global strategy was built to support this vision, though water management efficiency initiatives in our operations, watershed improvements through stewardship plans, but also programs for water resilience enhancement in the communities we operate in. Moreover, over a decade ago, we set out to return to the communities 100% of the equivalent of water used in our drinks and their production. We achieved this goal 5 years ahead of schedule and in each of the past seven years we have exceeded this target – achieving a positive water footprint.
We achieved these results by developing strong partnerships with non-governmental organizations, authorities and the community. In Europe, we are supporting a large-scale wetlands restoration program along the Danube and its tributaries, taking place in six countries (Austria, Hungary, Croatia, Serbia, Bulgaria and Romania). "Together for a Living Danube" is a unique, cross-sectoral partnership between WWF-CEE, the Coca-Cola Foundation and the International Commission for the Protection of the Danube River (ICPDR). With an eight-year history, the partnership has so far meant the restoration of wetlands and floodplains on an area of ​​5,462 hectares, the equivalent of more than 7,422 football fields. The ecological reconstruction works done in these six countries increased the storage capacity of the Danube meadow by more than 13 million cubic meters – an amount that would fill more than 4,800 Olympic pools.
In Romania, the ecological reconstruction took place in Gârla Mare-Vrata, in Mehedinți county and the most important reconstruction phase was finished in 2021. These works made it possible to reconnect the Danube with its floodplain and has the potential to store over 5 million m3 of water during Danube floods. More than 400 hectares of meadow have been returned to nature following the restoration, and the project contributes to restoring the area's biodiversity, with already visible effects, and opens opportunities for socio-economic development. Beyond these concrete results, the project offers the opportunity to open the debate about the importance of wetlands to ecosystems and communities and provides an example of a nature and water conservation initiative that can be successfully replicated.