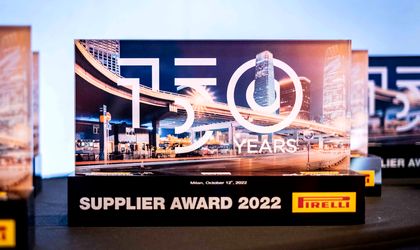 Dealing with the challenges of the current macroeconomic context through a supply chain that is always more sustainable and with lower CO2 emissions, focused on high quality raw materials and services, and with continuous innovation through a global presence and stability of supply.
These are the principal factors that have guided the assignment of the Pirelli Supplier Award 2022, the recognition that Pirelli gives each year to nine suppliers from the total of more than 15,000 of its global supply chain, that distinguished themselves in making Pirelli's supply chain even more sustainable, innovative and qualitatively excellent.
The 9 awards to suppliers of raw materials and services who distinguished themselves in the last year were presented on Wednesday by the Executive Vice Chairman and CEO, Marco Tronchetti Provera and Chief Procurement Officer, Andrea Maganzani, at a ceremony at Pirelli's headquarters in Milan, with the participation of the Group's top management.
Marco Tronchetti Provera, Executive Vice Chairman and CEO of Pirelli, commented:
"The sharing of our company values with our suppliers is a key step towards achieving the goals we have set, in particular those linked to sustainability and innovation. These strategic factors enable us to remain competitive even at this particular time. For this reason we wanted to award the companies that have become important partners for our activities throughout the world."
During the ceremony, which saw the participation of almost 150 of the Group's preferred suppliers, Pirelli's strategy was reiterated with its roadmap for growth in the use of innovative materials derived from renewable and recycled sources to achieve the objectives of the Group's 2025 Industrial Plan. Another important factor in sustainability is the process of de-carbonization, to which the Group's partners are called upon to contribute, with the aim of reducing CO2 emissions of Pirelli's supply chain by 9% in 2025 compared with the 2018 figure.
These are the companies awarded in 2022 for the various categories of the Pirelli Supplier Awards:
Sustainability
DRT (France), supplier of bio-chemical products;
Quality
Evonik (Germany), silica supplier;
Innovation
Asahi Kasei Corporation (Japan), supplier of synthetic rubber;
Amazon Web Services (USA), partner for digital transformation;
Performance
Jiangsu Xingda Steel Tyre Cord Group Corporation (China), supplier of metallic reinforcements;
Service Level
Kordsa (Turkey), supplier of textile reinforcements;
DHL Global Forwarding (Italy) Spa (Italy), international logistics partner;
Fortek Srl (Italy), supplier of products and services for industry;
DCS Multiserve Ltd (UK), supplier of general services.