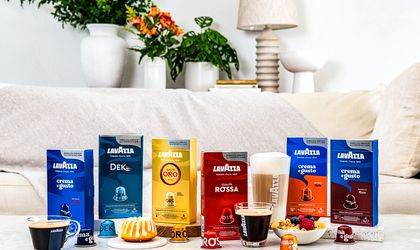 Lavazza passion and excellence at the service of sustainability and innovation can be found in Romania in the new aluminium capsules compatible with Nespresso* Original machines and dedicated to the iconic blends that express the Turin company's history and expertise in the art of blending.
Qualità Oro, Crema e Gusto, ¡Tierra! For Planet, Espresso Maestro Lungo, Espresso Maestro Intenso, Espresso Maestro Classico, Espresso Maestro Ristretto and Espresso Maestro Dek make up the brand's first range of aluminium and carbon-neutral** capsules that compensate carbon dioxide emissions. A new milestone in Lavazza's commitment to striving for a better world by producing not just coffee, but a virtuous circle that creates economic, social and environmental value.
The uniqueness of Lavazza's iconic brands is clothed in aluminium to offer consumers the unmistakable aroma and quality of the company's finest blends, so that they can rediscover the pleasure of their favourite coffee with zero CO2** impact.
Eight iconic blends to satisfy the different tastes of all coffee lovers:
Qualità Oro: elegant, with fruity and floral notes. The finest arabicas from Central and South America. Selected, blended and roasted to perfection. The result is a symphony of the finest arabica coffee beans enriched with fruity and floral notes.
Crema e Gusto Classico: a creamy coffee enhanced by dark chocolate hints, wood and spice aftertaste. Perfect to start your day, Crema e Gusto ensures the perfect balance between cocooning and willpower. Take a sip: your senses are satisfied, and your day is on.
¡Tierra! For Planet: sustainable, with fruity notes. Arabica from Central and South America, with hints of biscuit. Medium roasting for a smooth aftertaste of chocolate. ¡Tierra! For Planet reflects the Lavazza Foundation's commitment to training coffee farmers in agricultural techniques that help them manage the effects of climate change.
Espresso Maestro Lungo: sweet and aromatic 100% arabica, with floral and fruity notes. "Lungo" means long. Long as a row of roses in an Italian garden, long as our country resting on the sea. Not weird if you feel floral flavour with fruity notes blended by our Master Blenders, for an unrivalled, long coffee experience.
Espresso Maestro Intenso: intense and full-bodied with wood and spice notes, light cocoa and dried fruit aftertaste. Can a breath be encapsulated? The Espresso Maestro Intenso encloses aromas from the land where woods breathe deeply, and cocoa beans spread their intense flavours. Master blenders know how to make you savor such a sensory journey.
Espresso Maestro Classico: cereal notes, balanced with a bit of acidity and an aftertaste of biscuits. 100% Arabica from Central and South America. Taking inspiration to Italian vibrant cities, the selection, blending and roasting used is the pure expression of mastership.
Espresso Maestro Ristretto: intense and full-bodied, with notes of chocolate and caramel. A balanced mix of Arabica and Robusta. Less is more, even for coffee: savour how intense an experience can be in such a little cup.
Espresso Maestro Dek: delicate, with notes of dried fruit. The body of the arabicas of South America. The sweetness of South-East Asian robustas. A natural decaffeination method that leaves the taste unaltered. For a rounded espresso with a velvety crema. Decaffeinated with taste. For all lovers of caffeine-free espresso who are looking for all the flavour and classic aroma of coffee.
Experience, superb blending, and capsule technology working together for greater, more effective respect for the environment and the planet.
The launch of the carbon-neutral aluminium capsules compatible with Nespresso* Original machines is in line with Lavazza Group's long-term programme "Roadmap to Zero", which started out by reducing emissions along Lavazza's entire value chain, from coffee growing and all the intermediate phases through to the end-of-life cycle. Fully aware that it is impossible to completely reduce all emissions, Lavazza decided to offset its residual carbon emissions, those that simply cannot be cut.
The first stage was implemented in 2020 with the compensation of direct emissions by all Lavazza Group's production facilities and commercial offices. The Roadmap to Zero is in line with the Group's adoption of the United Nations' Sustainable Development Goals and in particular SDG 12 (responsible consumption and production) and SDG 13 (combating climate change).  The ultimate aim is to achieve total carbon neutrality by offsetting all direct and indirect emissions, i.e. all emissions generated along the entire value chain, from growing the green coffee to packing, and from distribution of the end product to its use and disposal.
Lavazza's new range of compatible capsules is a step towards the compensation of indirect emissions along the entire supply chain, both up and downstream of the Group's operations, from green coffee to disposal and including all phases in production, transport and use.
The project chosen to offset these capsules' emissions is MADRE DE DIOS, launched in Peru to protect the Madre de Diòs forests from human settlements, thus safeguarding local biodiversity, as well as supporting local native communities who depend on the forest for survival. Certified according to two highly demanding international standards like Verified Carbon Standard (VCS) and Climate, Community & Biodiversity Standards (CCB Gold), the project has over the last 38 years created 470 jobs (100% of employees are Peruvian) to protect the area and develop sustainable forestry practices, as well as safeguarding around 100,000 hectares of Amazon rain forest by monitoring 35 threatened species. It protects the indigenous Yine and Huitoto communities and has so far helped to save up to 25,000 tonnes of CO2.