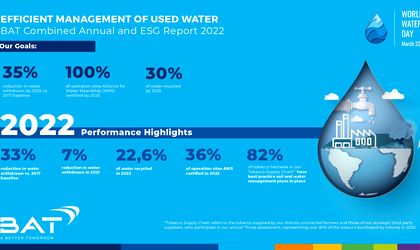 In its first Combined Annual and ESG Report, BAT announced important results in achieving environmental, social and governance (ESG) objectives. Regarding the management of the water used in its production processes in 2022, BAT`s report shows that:
24 own operation sites are certified by the Alliance for Water Stewardship (AWS)**, including the BAT factory in Ploiesti, which obtained the AWS certification last year;
22,6% of used water volume was recycled;
33% reduction in water withdrawn vs 2017 baseline was registered, which means a 7% reduction in water withdrawn vs 2021;
82% of tobacco hectares in our Tobacco Supply Chain have best practice soil and water management plans in place.
"Efficient water management is vital for the responsible use of resources, both at the individual and organizational level. Consistency and perseverance are needed in this endeavor and the theme of this year's World Water Day is accelerating change, complemented by the slogan Be the change you would like to see in the world, a message that we have also supported through the years within our Choose Responsibly for a Clean City campaigns. BAT is engaged in building A Better Tomorrow™ for consumers and for the society, both by fulfilling our business sustainability objectives, towards which we are taking decisive steps, as well as through campaigns related to the responsibility of our individual choices," says Ileana Dumitru, Legal and External Affairs Director, Central Europe South Area at BAT.
In 2020, BAT announced ambitious targets for reducing the health impact of its business, reaching environmental protection excellency, generating a positive social impact and its engagement in correct and responsible commercial practices.  BAT`s targets include reaching 50 million consumers of its non-combustible products by 2030; reaching net zero CO2 emissions across its value chain by 2030; 100% renewable energy by 2030.
In water management, BAT aims by 2025:
35% reduction in water withdrawn by 2025 vs 2017 baseline;
100% of operations sites Alliance for Water Stewardship (AWS) certified by 2025 – this globally recognized independent certification will contribute to the validation of the sustainable use of water by BAT;
30% of water recycled by 2025.
BAT's efforts and commitment to high sustainability standards have been recognized by prestigious independent institutions. Among them are BAT`s inclusion in the Dow Jones Sustainability Index for 21 consecutive years (BAT is the only tobacco company listed in the prestigious World Index in 2022, being ranked among the top 3% of evaluated companies), an MSCI BBB rating and the CDP A List level.
Tobacco Supply Chain' refers to the tobacco supplied by our directly contracted farmers and those of our strategic third party suppliers, who participate in our annual Thrive assessment, representing over 80% of the tobacco purchased by volume in 2022.