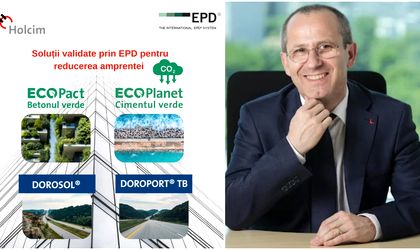 New steps in the transition to sustainable constructions were made this week as Holcim Romania's ECOSolutions received international external validation for reduced environmental impact, continuing the path towards the ecological transition in the construction materials sector by drawing up four new Environmental Declarations recognized at the international level (Environmental Product Declaration – EPD), which scientifically certify the low environmental impact of Holcim's ECOSolutions – ECOPlanet cement, ECOPact concrete and special binders Doroport and Dorosol.
Holcim, the first construction materials company in Romania to publish an Environmental Product Declaration (EPD), also becomes the first manufacturer of construction materials with solutions and products whose reduced CO2 footprint is proven, according to the same instrument.
Environmental Statements help architects, designers, developers, and builders make informed decisions in the process of selecting building materials, and by using sustainable, externally validated materials, Holcim offers its customers the benefit of increased scores in green building certification schemes (LEED, BREEAM, Green Homes, etc.).
"We take responsibility for reducing greenhouse gas emissions. We share knowledge and develop tools that allow our collaborators to make a responsible choice of the construction materials they use. We continue to support the development of EPDs in the construction market as they represent verified, transparent, transformative environmental impact data, enabling designers, architects, developers, and builders to make informed choices about sustainable building materials," said Edmund Piess, Director of Sustainability, Holcim Romania.
The four new Environmental Product Declarations represent documents of external recognition, validated by a third party independent evaluator, which certifies the impact it has on the environment the production of: 1t of ECOPlanet, 1t of Doroport, 1t of Dorosol and 1m3 ECOPact.
Holcim Romania contributes to the achievement of the target set at Group level, of becoming a NET ZERO company, and to improve the way that we build in Romania.
Environmental Product Declaration (EPD) is an instrument recognized globally and internationally standardized for certifying the sustainability of the products. The EPDs allow the assessment of environmental performance of the products based on a Life Cycle Assesment. An EPD communicates verified, precise, scientific based information for the products and its applications, stimulating the efforts of protecting the environment according to the market evolution.
In 2014, Holcim Romania was the first producer in the constructions industry who made EPDs available to the interested parties, mad for product categories produced locally, such as: cement, concrete and aggregates. In 2019, these three EPDs were updated and revalidated externally. This process of updating and validating was retaken this year, proving Holcim's commitments to provide sustainable products for the industry, commitment confirmed by the the EPDs.