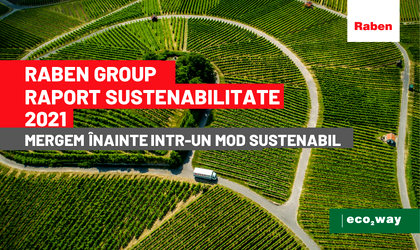 The 90th anniversary and new acquisitions, statistics concerning over 10,000 employees and 14 markets, fight against climate change and social actions – this information and much more is contained in the new Raben Group Sustainability Report.
In the 2021 publication, the logistics operator presents both long-term programs and their effects, as well as one-off projects, often with groundbreaking significance for the company and the industry as a whole.
For a company to grow in a truly sustainable way requires not only forward thinking and bold decisions, but also systematic work and day-to-day efforts to turn plans into tangible results. Eagerness and ambition in setting goals should go hand in hand with consistency and determination. This approach to business can be seen in Raben Group Sustainability Report 2021. The company has just published a report – the eighth in its history, the second on sustainability (not just CSR), and the first to include data from all European markets in which it operates.
2021 was a year of the Raben Groups' 90th anniversary but as well it was a year to be hailed as a milestone in the development of our sustainability endeavours within the Group by putting us among the leaders of sustainability in transport and the Logistics industry. With so many initiatives successfully completed I have a feeling that  Environmental, Social and Governance standards ( ESG) have now successfully become an embedded part of our company's DNA – says Ewald Raben, CEO of Raben Group.
In the past year, the effects of the pandemic were still very much visible, however more positive events came to the fore – the already mentioned anniversary and the expansion of the Raben Group coverage map. The company celebrated its 90th anniversary in an eco-friendly manner with the Eco2Way tour of Europe culminating in a voting for projects designed to help nature. It entered its next decade of operations by giving a clear signal of its concern for the fate of the planet and responsibility for future generations and it also simultaneously entered its fourteenth and, as of February 2022, fifteenth market with the acquisition of logistics operators in Greece and Austria. Also acquisitions of companies in the Netherlands and Germany gave Raben the opportunity to strengthen its position on the existing markets.
Long marathon…
In the Sustainability Report 2021, Raben Group presents long-term actions in the areas of ethics, risk management, information security, service quality, innovation, carbon footprint reduction, efficient transport and waste management, employee development projects, safety culture, supply chain, responsibility for local communities, to name just a few. There was also room for one-off projects, which we very important as they determine the functioning of the company in the coming years.
The 2025 Sustainability Strategy has taken on its final form and has subsequently become our road map that sets concrete and precise goals in all the important and relevant areas of our industry. We have begun the process of identifying Group-wide climate risks and assessing their potential impact, bearing in mind the implications of the climate crisis for our operations, in relation to new regulations and changes in risk management – says Ewelina Jabłońska-Gryżenia, Head of Sustainability in Raben Group.
… and long jump
The Power Purchase Agreement (PPA) that will provide the company with green energy in Poland between 2023 and 2029 and contribute to the construction of new photovoltaic farms in Poland, undoubtedly falls into the category of these landmark projects. The €225 million, five-year Sustainability Linked Loan (SLL) has equally high profile. Its margin depends on meeting the conditions set by the five environmental, social and governance key performance indicators for the TFL sector. For Raben Group, this is a strong motivation to reach the goals, such as reduction of emission intensity by 30% in its own facilities and by 10% in transport, increasing the share of trucks meeting the minimum Euro 5 standard in its own and subcontracted fleets to 96%, increasing the percentage of women in management positions to 34% and a steady improvement in the EcoVadis rating by 2025.
With great power comes great responsibility
For one of Europe's leading logistics operators, such a large scale of operations means a large impact on numerous stakeholder groups and global responsibility. Therefore, the updated Strategy, which was adopted in 2021,  is expected to contribute to selected UN Sustainable Development Goals: (3) Good Health and Well-being, (5) Gender Equality, (8) Decent Work and Economic Growth, (9) Industry, Innovation and Infrastructure, (12) Responsible Consumption and Production, (13) Climate Action, and (17) Partnerships for the Goals. The confirmation of Raben Group's commitment to sustainability, its willingness to improve but also to share knowledge and good practices, is the fact that it has joined the United Nations Global Compact and the Science Based Targets initiative.
Presence on over a dozen European markets and a professional approach to reporting are connected with a huge volume of data. The report covers the whole Group (the previous one covered Poland, Germany and the Czech Republic, and the ones before that covered Poland only), which has over 10,000 employees, a fleet of over 9,000 vehicles and approximately 160 depots located in 14 countries in Europe. Like the year before, the content was divided into sections reporting on the company's economic, social and environmental impact as well as corporate governance. A novelty in the report is the first ever disclosure of climate-related information by Raben Group according to TCFD recommendations (Task-Force on Climate-Related Financial Disclosures). The report was prepared in accordance with the GRI Standards at a basic level and was externally verified by Deloitte.
The above steps have further confirmed not only our commitment but that of our employees to actively support ESG targets and that it is possible to develop business, focus in respect to growth and at the same time improve our sustainability efforts and work to limit our overall carbon footprint. With this base we can confidently pursue our sustainability plans in the years ahead – summarizes the CEO of Raben Group.