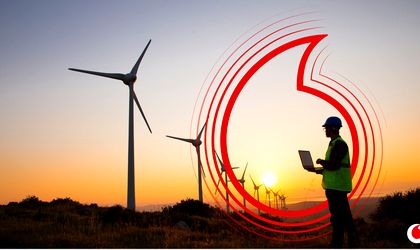 The covid-19 pandemic has had a transformative impact on companies across the world, having forced many of them to re-evaluate their entire business models. With the help of vaccines, we can hope for a return to a normal life in 2022, but until then, businesses must find a way to at least survive, if not thrive, and the only way to make that happen is to embrace digitalization.
By Aurel Constantin
Digitalization can mean a lot of different things depending on the business. For a small boutique shop, it can simply mean getting a computer connected with the cash register or adding an internet connection. For a corporation, it means building an entire digital ecosystem with multiple integrated software solutions like ERPs and CRMs, as well as smart buildings and connected offices. At the heart of all such digital solutions are technologies like the Internet of Things (IoT), Artificial Intelligence, and Big Data. Of these three, IoT is the most transformative, as it can be seen as a spider web that gathers data for Big Data to store and AI to analyse.
The more devices are connected through IoT, the more powerful the Big Data becomes. In its 2020 IoT Spotlight Report, Vodafone Business talked about "future-ready" businesses, meaning those companies that are well-prepared to embrace whatever lies ahead. "Future-ready" businesses have a positive approach to change and are open to new technology. They actively plan for their technological futures and set detailed strategies. They keep up to date with emerging trends and, crucially, are able to adapt to new challenges, which makes them quicker to market than their competitors. And "future-ready" often translates to "IoT-ready," the report says.
In 2020, Vodafone Business reached the key milestone of 100 million IoT connections worldwide, and today it has more than 118 million. "Businesses have moved on from simply trying to understand IoT to harnessing it to achieve their business goals. Leaders have realised that access to data and automated processes provide a pathway to digitalization. With this shift comes higher efficiency, flexibility, and differentiation. But while IoT is more trusted and used than ever before, our research shows that there many organisations are yet to make the most of it. This may be due to a growing belief that IoT has to be part of a wider programme of change to be truly transformational," said Erik Brenneis, IoT Director at Vodafone Business.
Positive return on investment
The IoT Spotlight is an independent study conducted by Savanta, which surveyed 1,639 businesses globally. Business leaders were asked about how they were using IoT and how it was helping them be "future-ready." The report found that IoT was key in improving business performance and that it continues to generate real business value, with 95 percent of respondents seeing a positive return on investment. The benefits of IoT fall into two main categories: improving operational efficiency and creating new connected products and services.
The survey was conducted at the height of the pandemic, and 84 percent of IoT adopters felt that IoT was a key factor in maintaining business continuity throughout the period. While this meant some projects had to be paused and resources reprioritised, the crisis prompted 73 percent of IoT users to accelerate the pace of adoption. About 86 percent of respondents said IoT had changed the way they approached analytics and the value of data and 87 percent agreed their core business strategy had changed for the better as a result of adopting IoT. The survey found that 73 percent of adopters were confident that companies that will have failed to embrace IoT within the next five years will have fallen behind, meaning that IoT is expected to create sustainable, long-term competitive advantages.
The adoption of IoT has continued this year too, as companies have found that the technology can generate value and a good return on investment, with 61 percent saying that these returns are significant.
Half of respondents (50 percent) pointed to improved employee productivity as a key benefit of IoT deployments, while 42 percent defined asset uptime (consistency and reliability) as a core advantage. More than a third of adopters were able to innovate their offerings through IoT. Some 34 percent saw IoT directly generate new revenue streams, while 34 percent saw existing revenue streams increase by an average of 24 percent. Collectively, 82 percent experienced a rise in revenue as well as in market share (81 percent) since adopting IoT. Strikingly, IoT had enabled over half (55 percent) of surveyed businesses to decrease their operating costs by an average of 21 percent. As a result, 39 percent of all adopters said that IoT allowed for greater flexibility when supporting their customers.
Help in pandemic times
The research demonstrates that organisations that have adopted IoT seem to have fared better during the covid-19 pandemic than those that have not. During this time, IoT has become vital for business resilience. Not only has it enabled some tasks to be automated and work to be carried out remotely, but it has also helped prioritise manual work to cope with reduced labour and protect those employees doing vital work. For example, energy providers can remotely check utility installations from a distance rather than going into the field themselves.
It's unsurprising then that 77 percent have reconsidered their approach to IoT following their experiences this year. In addition, as businesses enter the new normal, they are recognising that IoT provides them with the data they need to understand what the new normal looks like and to plan and act accordingly. IoT provides the gateway to build large new data sets quickly and to gain vital insights to help organisations compete effectively in whatever the new normal looks like. IoT's role in remote working increased in importance in this year's survey. 84 percent of adopters now view the integration of IoT devices and data with remote workers as a high priority. With remote working expected to be a key part of the new normal, adopters are expected to increasingly use IoT to support this change.
Iot for a climate-neutral Europe
IoT, AI, Big Data, and other digital solutions are key facilitators of sustainability in a wide range of industries, from smart agriculture to smart logistics, smart cities, and smart energy. In addition to benefits of automation such as increased productivity and reduced costs, IoT-based solutions have the advantage of increased efficiency, both operationally and in terms of resource use, which translates into lower energy and fuel consumption, low emissions, and a reduction of pollution and waste. It is not a surprise that the EU has pledged to become climate-neutral by 2050, as part of the European Green Deal, and become a global climate leader. The Green Deal provides an action plan to boost clean, affordable, and secure energy, cleaner industries and production processes, energy efficient buildings, sustainable and smart mobility, sustainable agriculture, and biodiversity restoration.
"This is shaping the world in which we want to live; a world where we use digital technologies to build a healthier, greener society," said European Commission President Ursula von der Leyen. Achieving a fair and sustainable transition to a climate-neutral Europe by 2050 will require action and investment in digital solutions across multiple sectors including agriculture, energy, mobility, and construction. In recognition of this, the EU has pledged to allocate 37 percent of its Recovery and Resilience Facility fund to drive green investments and reforms, while 20 percent has been allocated the digital transition.
Vodafone has implemented many projects across Europe, including Romania. Intelligent logistics, measures to reduce fuel consumption, smart farming and precision farming, smart city solutions to improve the efficiency of energy-intensive services such as public transport, road networks, and street lighting – these are just a few of the projects that have already been implemented by Vodafone. And it is clear that digital transformation will only accelerate in the coming years.