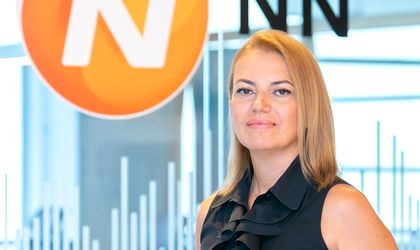 NN supported the physical, emotional, and financial well-being of the communities it is part of and donated a total of over 0.9 million euro in 2022 to socially relevant initiatives dedicated to children and people facing challenging times, benefiting a total of over 5,200 people.
Over 700 employees and financial consultants also volunteered over 1,750 hours of their time to amplify NN's positive impact in society, with the mission to contribute to a sustainable development for Romania. This is part of NN Group's 12.8-million-euro total community investment in 2022, representing 0.7% of the operating result before taxes, with the objective to reach 1% in 2023.
In Romania, NN aims to help people secure a better future and contribute to their well-being, as shown in NN Romania's Community Investment Report in 2022. Thus, NN supported initiatives for children's health and education and developed actions to improve financial literacy, as well as to create career opportunities for young people from disadvantaged communities, helping them to integrate in society and lead independent lives. At the same time, NN supported families facing difficult circumstances in 2022 or living in vulnerable communities.
NN's most significant initiative in Romania in 2022 was continuing the efforts for the extension of the Cardiac Surgery Department of the Marie Curie Children's Hospital in partnership with the Inima Copiilor Association, with the aim of giving more children with heart defects access to the surgery they need. Last year, NN continued to donate and transform the cause into a social manifest, encouraging people to join the fundraising actions and doubling all individual 2 euro donations via SMS to 8844. So far, since the start of the initiative in 2021, NN donated close to 1.1 million euro to the cause, of which about 400,000 only last year, significantly contributing to raising the 3-million-euro total funds needed to complete the project, with the support of the community.
The focus on children's well-being was also reflected in NN's partnership with the Autism Voice Association to open the Autism Voice Institute, the first Multifunctional Center for Recovery and Research in Autism. The Autism Voice Institute is a unique project in Romania, laying the foundations for research in autism and bringing innovative recovery programs to Romanian children and adults diagnosed with autism. The center contributes to the development of therapies adapted to the patients' needs, to monitoring the evolution of their recovery and integration in society, and to a better understanding of the spread of autism spectrum disorders. As main partner, NN joined the mission and donated 200,000 euro. Starting 2022, over 500 patients benefit from treatment and therapies in the institute every year and, at the same time, 300 therapists and 300 teachers will be trained to better support patients with autism.
"We always put people first in everything we do, and this also means being socially responsible and driving positive change in society. In 2022, we focused on the physical, emotional, and financial well-being of the communities we are part of and supported initiatives helping children and people in disadvantaged contexts by providing access to quality of health, support for a healthy and self-sufficient life and education for a better financial future. For us, this means using our resources, expertise and reach to make a difference in society where it is needed most, even in challenging times", says Gabriela Lupaș-Ţicu, Chief Marketing & Operations Officer at NN Romania.
Education, social entrepreneurship, and opportunities for a better future
Last year, NN also continued to support initiatives aimed at improving education, social entrepreneurship, and access to professional opportunities for children and young adults. Together with Teach for Romania, NN created a program to help improve the quality of education for children in disadvantaged communities, donating 60,000 euro to ensure educational materials to children and trainings to contribute to the professional development of their teachers.
Also, through the collaboration started in 2014 with Junior Achievement, NN supported social innovation and creation of economic opportunities through the Social Innovation Relay and Economic Opportunities for All programs. Social Innovation Relay helps students identify real issues in their communities and develop innovative projects to address them, with support from NN mentors. In 2022, a total of 2,050 students from 60 high schools around the country participated in the program, and 350 entered the JA BizzFactory Incubator to develop their social startup idea. At the same time, through Economic Opportunities for All, the initiative aimed to facilitate young adults in their transition from education to employment or entrepreneurship, NN helped about 7,000 students access learning resources and 300 benefit from trainings for a better future.
Volunteering to amplify the positive impact in society
In 2022, NN has amplified its extensive volunteering strategy, encouraging employees and financial consultants to participate in all social responsibility initiatives supported by the company. In total, 700 team members contributed more than 1,750 volunteer hours.
The largest initiative involving NN volunteers was Your Community Matters Week, an annual initiative now at its second edition that leverages resources, skills and talents and directs donations and volunteering efforts towards maximizing positive impact in society. Therefore, during this week, NN supported initiatives and encouraged its team to engage in relevant volunteering activities dedicated to children. In total, 500 NN employees and financial consultants participated in actions developed during the Your Community Matters Week, cumulating over 1,100 volunteering hours.
About 150 NN employees ran at the NN Charity Run and turned 770 kilometers into donations to the Inima Copiilor Association, and another 30 volunteers ran at Color Run to help Hope and Homes for Children build a house for a disadvantaged family with 7 children. At the same time, NN volunteers brought joy on June 1 to over 200 Ukrainian children without family, in placement centers in Romania, by giving them clothes, toys, accessories or other items they wished for on the International Children's Day. To support young adults who are preparing to start a life on their own, volunteers welcomed them to the NN headquarters to help them discover what life is like as an NN employee, discuss career opportunities and give them advice on what they can do for a better financial future.
Solidarity with Ukraine
In the first half of 2022, NN Romania supported the refugee community in Ukraine through donations totaling 220,000 euro for several relevant initiatives for those in need. Together with the Red Cross, NN contributed to actions dedicated to refugees arriving in Romania or still in their home country through the Humanity has no borders campaign. As a result, through this donation refugees received first aid and assistance, food, clothing, medicine, as well as counselling, educational activities for children and support in reconnecting families.
In addition, together with Code4Romania, NN contributed to the significant initiative to develop the digital solutions ecosystem dedicated to refugees and volunteers, as part of the NGOs broader mission to develop and maintain the digital infrastructure that the Romanian society needs. The digital ecosystem of response to emergencies and humanitarian crises provided refugees with accurate official information on entering and staying in Romania, the necessary digital infrastructure for aid management that the central and local authorities use to allocate the resources, as well as access to healthcare, education, or psychological support.
NN also joined Hope and Homes for Children to help shelter and aid Ukrainian children coming to Romania from the child protection system in Ukraine. In total, 104 institutionalized children, 43 accompanying adults and 13 children belonging to the accompanying adults received help. Another 450 refugees, mostly women, children and elderly people received immediate support and counselling. And together with Royal Club Romania, NN also facilitated access to medical aid for Ukrainians in need.