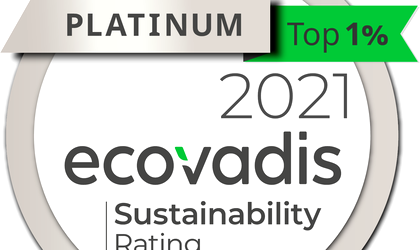 CHEP Europe, the supply chain solutions company, has earned an EcoVadis Platinum Recognition Level, for its sustainability achievements in 2020, the highest recognition of a supply chain supplier presented by the world's most trusted business sustainability rating organization.
This is positioning CHEP amongst the top 1% of 75,000 companies in 200 sectors evaluated globally, following 5 consecutive years of having received an EcoVadis Gold scorecard. The Platinum level was awarded to CHEP Europe for its conscientious practices and achievements in areas concerning the Environment, Labour Practices, Human Rights, Ethics and Sustainable Procurement.
This recognition complements CHEP's mother company sustainability achievements. This year, Brambles Group—the largest supply chain provider operating a circular business model and signatory to the UN's Global Compact—was rated as #2 most sustainable company globally by Dow Jones' magazine Barron's.
The company was also included in the 2021 Corporate Knight's prestigious Global 100 list of the world's most sustainable corporations. These recognitions are the result of Brambles' sustainability goals achieved over the last years, including zero deforestation, zero product waste to landfill and a reduction of 33% of CO2 emissions.
CHEP recently presented its new sustainability strategy for 2025, which aims at pioneering regenerative supply chains. Iñigo Canalejo, CHEP EMEA Sustainability and Government Affairs Lead explains: "We are extremely proud to receive yet another recognition for our efforts in Sustainability. As pioneers of the circular economy, we've always strived to reduce our negative impact, but now we want to take a step further and evolve from doing 'less bad' to generating a net-positive impact on the planet and the society".
CHEP's 2025 Sustainability targets reflect this new regenerative approach, which is based on a 'Planet Positive, Business Positive and Communities Positive' strategy. "Our new regenerative ambition and our commitment to a sustainable future, materialised by our signing of the United Nations Global Compact's (UNGC) 'Business Ambition for 1.5ºC Pledge', will help us to maintain our leadership position in the coming years, to achieve a really positive impact on the planet, society and communities, and ultimately, to create lasting changes in people's lives", says Canalejo.