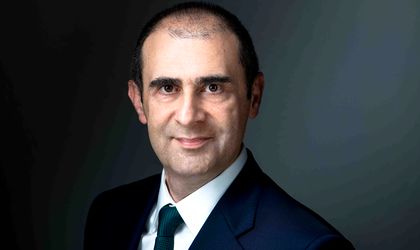 Mustafa Tiftikcioglu, CEO at Garanti BBVA, told Business Review about the lender's strategy to contribute to the achievement of Romania's Sustainable Development Goals (SDGs) and the ways in which it aims to encourage Romanians to make sustainable life choices.
By Anda Sebesi
What are the building blocks of your sustainability strategy and how do they translate into the projects you implement?
First, we must acknowledge the fact that sustainability is essential for each organisation and that it is no longer optional for companies. It is a principle that must be applied across our daily activities. At Garanti BBVA Romania, we strongly believe that operating sustainably is going to be a key driver of the bank's long-term success and we have already started developing our capacity to fight against climate change and support the growing relevance of social inclusion. A few years ago, our organisation decided that sustainability would be one of our five strategic priorities, in line with the role we have taken on as a major contributor to inclusive and environmentally caring economic and social development.
It is essential to note that as a bank, we act as a financier of a greener economy. We also share our knowledge, foster cooperation with external stakeholders, and use our influence in society to increase awareness and achieve results in promoting sustainable development. To become a more sustainable group, we have taken a few measures at the company level, encouraging all our employees to join our efforts. At the same time, we have expanded our offer by adding financial products that contribute to the protection of the environment.
Garanti BBVA Romania's message is that each person has a moral obligation towards others and future generations and they must be aware that while their healthy and sustainable choices may represent small steps, they positively impact future generations.
How has your business strategy adjusted since you've decided to develop a more sustainable business?
In recent years, Garanti BBVA has developed a multi-directional social responsibility strategy at the group level, aiming to contribute to society's welfare.
In its more than 20 years of operating on the local market, the bank has mainly invested in projects that have encouraged the protection of natural habitats, the development of Romanian entrepreneurship, access to financial education tools, and other initiatives with an impact on the community. Our partnership with WWF Romania, through which we support the WWF's nature preservation policy, is an example of this long-term commitment dating back to 2010, when we launched the WWF Bonus Card, the first eco-branded credit card in Romania.
In the coming years, we will continue to focus on adding new sustainable financial products, both to the bank's portfolio as well as to the product ranges offered by Garanti BBVA Consumer Finance and Garanti BBVA Leasing.
What should the private sector do to support the sustainable development of the local economy?
In recent years, we have seen leaders of public and private organisations in every sector beginning to assign more importance to sustainability. Companies are thus more concerned with making sure that their operations respond to the needs of the present without compromising the ability of future generations to meet their own needs. And in turn, banks have aligned themselves with this joint effort and are now placing sustainability and environmental protection among their top priorities.
What are the main projects your company developed last year?
In 2021, Garanti BBVA Consumer Finance launched the Green Credit, a product for individual customers who want to make sustainable purchases. By launching the green loan, we want to contribute to the achievement of Romania's Sustainable Development Goals (SDGs) and encourage Romanians to make sustainable life choices.
Earlier this year, in collaboration with the Romania Green Building Council (RoGBC), Garanti BBVA launched the innovative financial product called Eco House, a green loan granted to individuals for the acquisition of green residential units which are certified as such by RoGBC. At the same time, Garanti BBVA became a Platinum member of the RoGBC. The collaboration between the two organisations aims to promote the financing of sustainable housing acquisitions by offering green mortgage solutions to individual customers.