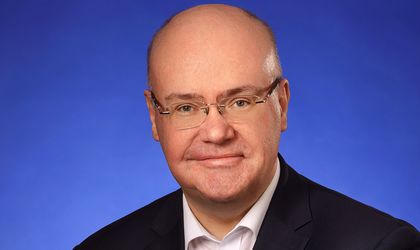 Eric Stab, CEO at Engie Romania, sat down with Business Review to discuss the company's focus on sustainable development and share his thoughts about what the private sector should do to help create a more sustainable local economy.
By Anda Sebesi
What are the building blocks of your sustainability strategy and how do they translate into the projects you implement?
Our sustainability strategy has four main topics at its core: ethics, people, the decarbonisation of ENGIE's and its clients' activities, and providing much-needed aid to communities. I believe everyone can relate to the importance of business ethics and zero tolerance for any incidents; it is why we have enforced this approach across all of our processes. As for people, we support our colleagues by creating a strong health and safety culture, focusing on gender diversity programmes, fostering the development of their skills, and paving the way for the next generations who will be interested in pursuing careers in our sector. Recently, our efforts have been recognised: we are the only company in the energy sector to have received the EDGE certification for our commitment to workforce gender diversity, with 43 percent of all our managers being women. Additionally, our dual education professional programme has been named the best in the country and we have successfully managed to hire all the students who have enrolled so far. In terms of the help we've provided to communities, we are happy to have improved the lives of more than half a million people through numerous projects in the field of environmental protection, energy efficiency, education, and healthcare. In doing all this, we always have in mind the essence of our business strategy: reaching carbon neutrality by 2045 by decarbonising our activities and providing secure energy which is consumed more efficiently, accessible for as many people as possible, and respectful of both society and the environment.
How has your business strategy adjusted since you've decided to develop a more sustainable business?
As a leader in low-carbon energy solutions, we set the stage by accelerating the transition towards a carbon-neutral economy. Here in Romania, we offer our B2B and B2C customers solutions for decentralised energy production, energy efficiency, and green mobility. For instance, this year we signed a partnership with Saint-Gobain Romania to build the largest onsite photovoltaic system in Romania, which will provide around 20 percent of the energy needed by their industrial site in Calarasi and avoid generating more than 2,400 tonnes of CO2 per year. On the other hand, we provide our B2C customers with green electricity solutions¬—by contracting it from our own renewables portfolio or having them produce it themselves via photovoltaic panels—as well as green mobility solutions.
What should the private sector do to support the sustainable development of the local economy?
I think each business should set an example by reducing its own carbon footprint. Second, I believe in education and in the impact of encouraging both our employees and customers to embrace a more sustainable lifestyle, by using green energy, switching to green mobility solutions, and paying much more attention to energy efficiency. Of course, our partners, suppliers, and subcontractors also play an important role and we are committed to increasing the share of partners who have high sustainability ratings.
What are the main projects your company developed last year?
There were many projects that made us very proud last year. I will mention one that can be seen as a best practice, especially in this dynamic and volatile energy context: turning SOS Children's Village¬—an NGO that takes care of 400 disadvantaged children—into the first energy-efficient community that also produces its own green energy. Through a multi-annual programme, in partnership with Habitat for Humanity, we installed solar panels on the rooftops of the 15 social homes in Bucharest, and they produce green energy for self-consumption. Furthermore, after having rehabilitated these 15 homes between 2014 and 2016, we are now in the process of rehabilitating two more buildings that will be transformed into educational and therapy spaces. Overall, so far, the association has saved more than EUR 150,000 on its energy bills and redirected the funds to care programmes.