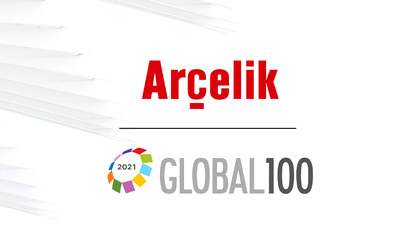 Arçelik, one of the leading household appliance manufacturers including global brands such as Beko and Grundig has ranked 34 on Corporate Knights' 2021 Global 100 Index. The ranking makes Arçelik the most sustainable home appliances and houseware company in the world, and the first and only Turkish company to make the list.   
The 2021 Global 100 Index is the 17th annual ranking of the world's 100 most sustainable corporations by Corporate Knights which rigorously assesses the performance of 8,080 companies with more than US$1 billion in revenues. The Index assess the companies based on several performance indicators that reflect environmental, social and governance (ESG) concerns. The list celebrated the world's 100 most sustainable corporations delivering superior financial performance and leading the race to net zero economy.
Operating in nearly 150 countries and adopting sustainability as a business model with its "Respecting the World, Respected Worldwide" vision, Arçelik accomplished important milestones around its sustainability efforts. The company succeeded in becoming carbon-neutral in global production in 2019 and 2020 with its own carbon credits and is named the "Industry Leader" in the Household Durables category for the 2nd year in a row in the Dow Jones Sustainability Index. Arçelik's 2030 greenhouse gas emission reduction targets are approved by the Science Based Targets Initiative (SBTi) as in line with the Paris Agreement's "well-below 2°C" goal.
Commenting on the Global 100 Index, Arçelik CEO Hakan Bulgurlu said: "We are thrilled to rank # 34 in Corporate Knights' 2021 Global 100 Index and to have once again been recognized as one of the most sustainable companies in the world. It is a significant achievement for us as a business, and we are proud of what we achieved with all our employees. We are delighted to see that Arçelik is on track to achieve the ultimate standard for sustainability and that we have set an exemplary standard for the companies in our industry to follow. We will continue to adapt our sustainability approach that complies with the UN Sustainable Development Goals (SDGs), develop climate-friendly products that use less resources and make them accessible to encourage others to live a more sustainable lifestyle."
—
"We are proud to be part of a Group that has taken on the mission of actively contributing to protecting the environment. Sustainability is a fundamental pillar in our business model, and the Arctic plant in Ulmi, the only 4.0 factory in Romania, represents our commitment to build responsibly and contribute to the fight against climate change. Based on state-of-the-art technology, which provides a much more efficient use of resources, our factory has been rewarded with an impressive number of accreditations as a green factory, being the only one in Romania which was reworded with LEED Platinum, a document that certifies the highest performance in sustainable production", said Murat Büyükerk, Chief Executive Officer Arctic.
For full Global 100 rankings and methodology details, please see corporateknights.com/global100