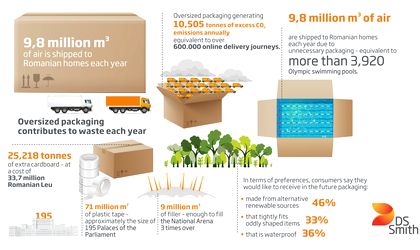 New research from DS Smith reveals that 9.8 million m3 of air is being shipped to Romanian homes each year due to unnecessary packaging – equivalent to more than 3,920 Olympic swimming pools.
As the price of raw materials increases across industries, oversized boxes containing excess material are causing 600,000 unnecessary delivery journeys, leading to 10,505 tonnes of potentially avoidable CO2 being released into the atmosphere each year.
DS Smith's research has found that cardboard boxes that do not fit their contents unnecessarily transport this excess air on lorries and into consumer homes, as well as needlessly deploying:
25,218 tonnes of extra cardboard – at a cost of 33.7 million Romanian Leu
71 million m2 of plastic tape – approximately the size of 195 Palaces of the Parliament
9 million m3 of filler – enough to fill the Arena Națională 3 times over
In addition to the environmental impacts of oversized boxes, there is a knock-on negative effect on brand perception. When faced with a box with too much packaging, 14 per cent of consumers say it has made them feel frustrated with the retail brand.
Setting out their expectations, consumers say they would like to receive packaging made from alternative renewable sources (46%), packaging that tightly fits oddly shaped items (33%) and packaging that is waterproof (36%) in the future.
25 million packages are sent each month through online shopping, and the research found that while 93% of businesses that sell goods online admit to using packaging that is not closely sized to the product, over half are focused on its recyclability (55%) and just under a third on the reusability (30%) of packaging.
Stefano Rossi, DS Smith Packaging CEO, comments: "Consumers want less packaging. Raw materials are more expensive than ever, and the benefits for the environment are significant, so now is the time to design the air out of online shopping.

"Wasted materials are not an accident, waste happens because of choices made at the design stage. The role of design in protecting our planet just can't be over-estimated – we need to adopt a circular approach, designing out waste to keep materials in use for as long as possible. Through our partnership with the Ellen MacArthur Foundation, we have already trained 700 DS Smith designers to use circular design principles, who are working on more than 2,000 live 'circular' projects. Our hope is that circular principles will become the norm for all design, everywhere, and that 'air-commerce' quickly becomes a thing of the past."
More information about the circular economy and DS Smith's Circular Design Metrics can be found here.
Christian Schmidt, Cluster Director DS Smith Packaging Romania, adds: "Online commerce is no longer just a trend in Romania, but also a necessity, a current reality of the market. The differentiator that DS Smith Packaging Romania offers to customers in this sector is the packaging optimization in all aspects: whether we are talking about adapting the volume of the packaging used in transport to the contents of the package, optimizing the customer's packaging supply chain, and even perfecting the customer's packaging line. We offer customized solutions due to the skills of our specialists, the latest generation tools we operate with, and the design capabilities. Through or local capacity, as well as innovations present in DS Smith factories around the world, we aim to make every project the best solution for the customer. In this way we achieve cost reduction for the packaging solutions requested by the customer, support the customer's sustainability strategy and protect the planet from unnecessary waste."
DS Smith's operations in Romania include a recycling center in Bucharest, two recycling depots in Otopeni and Cluj Napoca, a paper mill in Zărnești, two packaging production units in Ghimbav and Timișoara, and three service centers in Pitești, Timișoara and Otopeni, employing more than 650 people in total.