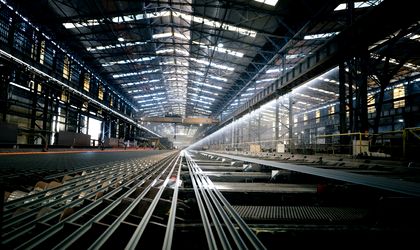 AFV Beltrame Group, Europe's leading merchant-rolled steelmaker, and one of the leading producers of merchant bars, with operations in Italy, France, Switzerland, and Romania, launches Chalibria, a certified "carbon neutral" steel, accelerating the transition to climate neutrality.
It is now confirmed that greenhouse gas emissions are among the main causes of the global climate change, so all possible strategies must be adopted to reduce them. In Europe, the recent EU climate law (EEC/EU Regulation No 1119 of 30 June 2021) turned the Green Deal's political commitment to EU climate neutrality by 2050 into a legal constraint.
Therefore, the obligation to comply with increasingly stringent industry regulations on the one hand, and the need to meet the challenges of a competitive market on the other, have led the Group to further integrate sustainability into all activities and processes, establishing a common strategy of efficiency and rigour for each location. For this reason, AFV Beltrame Group has defined as a central element of its strategy a decarbonisation plan and a precise agenda to reduce its CO2 emissions by 2030. 
"Emissions generated during the Group's operations, are well below both international and European industry averages, standing at 570 kg CO2 per tons of rolled steel (Scope 1,2 and 3 upstream), about 75% lower than global steel industry emissions and about 15% lower than the European average of electric furnace steel (EAF) emissions. But the company intends to improve its performance even more by setting itself an ambitious goal to reduce emissions by 40% by 2030 (compared to 2015) from today's already very low levels", said Raffaele Ruella, Group CFO and Managing Director.
To achieve this objective, four macro groups of activities have been identified in the decarbonisation plan:
A) Production Efficiency: Ever since being founded, AFV Beltrame Group has invested in the reduction of energy consumption: efficiency and reduction of production costs has always been a competitive factor. The Group wants to continue on this path and has strengthened its production efficiency strategy by modernizing its gas reheating furnaces, designing and implementing heat recovery systems and installing digital control systems.
B) Circular Economy: The company is constantly concerned with improving the quality of scrap and other raw materials, reusing waste from production processes (steel mill slag finds internal uses or undergoes certified processes for aggregate production, creating the conditions to meet green procurement requirements in the construction supply chain by replacing raw materials, such as gravel or sand) and by replacing raw materials with recycled materials (e.g. recycled polymer used to replace coal or scrap tyres, thus promoting the recycling of products that would otherwise be destined for landfill). These solutions have enabled the Group to strengthen its efforts to reduce waste and by-products sent to landfill, favouring their recovery in cycles, inside or outside the plants, covering today about 90% of the total.
C) Green Energy Supply: the Group wants to increase the amount of green energy used by building renewable energy plants for self-consumption and bilateral "Power Purchase Agreements". Among the main initiatives undertaken is "Renewability", a community of renewable energy consumers set up in 2022 with two other companies. The consortium Company thus created aims to invest in the construction of renewable energy generation plants and supply the electricity produced by the plants to each member.
D) Hydrogen projects: AFV Beltrame Group is also monitoring and preparing for developments in the use of green hydrogen as a fuel. AFV Beltrame Group's furnaces are already configured to use hydrogen as a fuel mixed with natural gas.
The Group's commitment to implementing projects that significantly reduce CO2 emissions gave birth to the idea of "Chalibria", "carbon neutral" steel.
The name Chalibria comes from the Latin "Chalybs" (steel) an homage to the ancient Chalybes, considered by the classics to be the originators of steelmaking. Adding 'libra' (balance, equilibrium), Chalibria was born: steel in balance. A balance also represented by the three C's in the logo (Carbon neutral – Circular – Commitment) which once again illustrates the circularity of value that is characteristic of the AFV Beltrame group's activity.
For residual emissions that cannot currently be reduced by decarbonisation plan actions, Chalibria's carbon neutrality is achieved by offsetting CO2 emissions from the value chain (cradle to gate) through the voluntary purchase of carbon credits in accordance with the PAS2060 standard and ISO14064-1 certification certified by RINA. The investments foreseen in the decarbonisation plan, which will be implemented within the timeframe dictated by the European programs, will reduce emissions from production processes and consequently reduce the purchase of carbon credits over time.
"Chalibria is the way we transparently show the progress we intend to make on a daily basis, a commitment we have made to all our stakeholders as a result of two years of work with various companies and consultants, mainly strategic partners Roland Berger and Alperia. Steel is a special material, infinitely recyclable and therefore inherently sustainable, but its production generates emissions and requires high energy consumption", explained Carlo Beltrame, Head of Group Business Development Beltrame and CEO France and Romania.
"In this regard, the Group intends to increasingly invest in minimizing atmospheric emissions. For example, visible progress has been made in the project to build a photovoltaic park near the Târgoviște plant to reduce the plant's energy consumption. To date, we have secured 50 hectares of land for the project and are in the process of concluding additional agreements for another 22 hectares. The onshore park will have an installed capacity of 60-65 MW. We will also install 10 MW photovoltaic panels on the roofs of our buildings, so that by the middle of next year, October 2023 at the latest, we will have a total power production capacity of 70-75 MW", he added.
—
"Creating and sharing values with all our stakeholders," Ruella concludes, "is illustrated in all ESG (Environmental, Social and Governance) areas. Commitment to the needs of the community, providing the necessary tools for the professional and personal growth of our people, attention to safety as well as technological innovation in processes and equipment in all our locations and, above all, the guarantee of responsible and transparent business management, of which Chalibria is yet another good example, are and remain our guiding values".