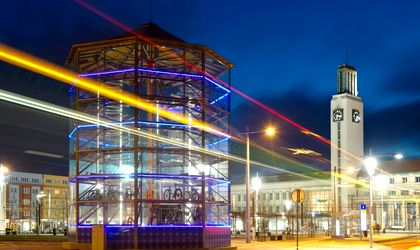 Many of the world's major cities are undergoing an accelerating transformation that indicates a trend that can no longer be ignored. In order to provide a quality life for residents, cities need to become smart and green. Paris, Prague and Amsterdam, Stockholm, Barcelona, Copenhagen or Hamburg are among the top smart and green cities in Europe, as they have become champions in implementing sustainable urban projects. Here are just 5 examples of such projects for real cities of the future.
The 20-minute neighborhood
How would it be for city residents to have easy access to shopping, education and health, cultural and sports activities, everything related to relaxation and to get to work in no time? How would it be if all the necessary things for a smooth daily routine were located very close to home, only 20 minutes away by public transport, bicycle or on foot?
The "20-minute neighborhood" concept is gaining more and more ground around the world, and the leader  is the Australian city of Melbourne. But Europeans are no slouches either. The mayor of Paris, for example, plans to turn the City of Lights into a 'green' city. The Mayor has chosen the famous Rue de Rivoli as the prototype of a future green metropolis, where no Parisian will have to walk or cycle more than 15 minutes to work, shop or take care of administrative stuff.
BikeTower
In the context of growing concern for sustainable urban mobility, projects to turn cities in Europe and beyond into green cities have intensified. Alternative means of transport have been encouraged, dozens of kilometers of cycle lanes have been built and automated bicycle parking facilities – BikeTowers – have appeared. These fully automated systems are easy to manage and bring benefits to both local authorities and city residents.
When parked in such a space, bikes are protected against theft and bad weather. Vertical bike parking also allows storage of accessories (child seat, shopping basket,  helmet, reflective vest etc.). BikeTower is fully automated and available 24/7. Encouraging cycling has positive effects on the health of city residents, reduces traffic and pollution. Cities become healthier and local authorities have many benefits: BikeTower is a smart investment with immediately visible results and can be financed with European funds. In addition, thanks to the concern for the development of green cities, it is a trendy business  In Romania, BikeTower is a solution for smart & green cities available in KADRA portfolio.
Sponge town
In the old days, most people living in the countryside used to collect rainwater. Today, rapidly urbanized areas have experienced flooding due to blockage of the natural flow of rainwater, and it has been concluded that smart stormwater management is absolutely necessary in metropolises. The sponge city "absorbs" rainwater, collects it intelligently and uses it to maintain green spaces, thus preventing flooding. This is something already in practice in Shanghai, for example, where streets have been paved with permeable material capable of absorbing rain, and excess water has been used to maintain green roofs and gardens.
Vertical forests
Vertical forests are no longer exactly a novelty, but an innovative project that architects are increasingly opting for. To solve the problem of pollution and lack of vegetation in big cities, vertical forests, in conjunction with other types of measures, seem a very effective solution. The best example is the well-known Bosco Verticale in Milan. In 2008, the peninsular city was named the most polluted metropolis in Europe. In the same year, the city council began the construction of two wooded skyscrapers, Bosco Verticals, the world's most awarded eco-design project. In Romania, there are such buildings in Timișoara.
Urban forests and gardens
After centuries of urbanization decimating green spaces and replacing them with concrete and glass buildings, the importance of the "green lung" in improving the quality of life in cities has been rediscovered. In metropolises across the globe, more and more urban gardens have been created, and the next step has been taken: planting new urban forests. Paris, for example, has set an ambitious target to make 50% of the city's land area  covered by green spaces by 2030. New urban gardens will be planted around the Eiffel Tower and on the Champs-Élysées, and urban forests will be established near the Gare de Lyon, Hôtel de Ville and Opéra Garnier.
All these projects show that cities don't have to necessarily be polluted, crowded places with a very low quality of life. There are solutions to change this. It all depends on their intelligent management and the implementation of projects that have the capacity to radically transform the urban landscape.
On June 25 and 26, at the fourth edition of Smart Mobility Cluj 2022, KADRA will present BikeTower, its smart solution for sustainable mobility.