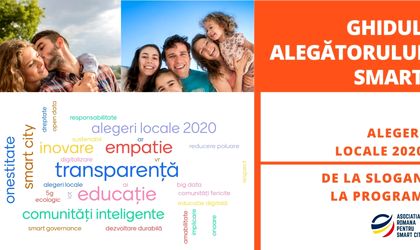 In the context of local elections to be held at the end of this month, the  Romanian Smart City Association launches the "Smart Voter's Guide", a guidance tool for all citizens who want to live in a modern, developed, sustainable community with accessible and quality public services.
The existence of a viable electoral program, with a clear and achievable community development vision, must be essential for the vote of trust given to elected officials. The Smart Voter's Guide is designed to understand the need for Smart City projects, their benefits, and to hold current and future local decision makers accountable for their actions in office.
"The COVID-19 pandemic has demonstrated the shortcomings of our society and a need for change that can no longer be postponed. As citizens, our approach regarding the local representatives we choose will change. The Smart Voter is aware of the importance of implementing technology-based solutions and digital tools in his community, as the concept of Smart City becomes increasingly vital for all. The Smart City concept meets the needs of citizens because it is about people and providing a better life. The Smart Voter's Guide is an orientation tool addressed to all citizens who want more for themselves and for their community!" Eduard Dumitrașcu, president of the Romanian Association for Smart City.
From Slogan to Program – in other words, the Smart Voter's Guide aims to inform voters so that they can distinguish between campaign promises and program platforms with important and achievable projects for the community they belong to. This guide provides information and ideas on how a smart community should look like, what areas need to be developed, what does an ecological, sustainable and resilient city mean and why economic development or education is important in a creative-smart city. The concept of Smart City is for and about people and cannot be implemented without smart citizens who adopt and benefit from the implemented smart solutions.
The Smart Voter's Guide is available for FREE to all interested citizens and candidates and it can be downloaded from the website of the Romanian Association for Smart City: https://romaniansmartcity.ro/ghidul-alegatorului-smart/