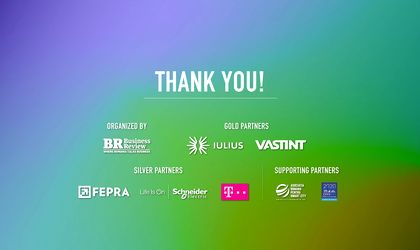 BR's Rising Cities. Smart Future | #EUGreenWeek Partner Event was held yesterday, June 10, 2021, at the 15th floor Sole Rooftop Terrace in Bucharest. Four hours of insightful talks, distributed over three engaging panels, the event brought together city officials, representatives of the business sector, and involved community leaders. A big thank you goes out to all those involved, the on-site audience, our viewers, speakers, and partners: IULIUS, VASTINT (Gold); FEPRA International, Schneider Electric, Telekom Romania (Silver); Civinet Romania & Asociatia Romana Pentru Smart City, and the European Commission, as a #EUGreenWeek Partner Event.
Click the YouTube player below if you missed the conference, or just want to watch it again:
RISING CITIES. SMART FUTURE 2021 highlights the type of investments and actions that are needed to upgrade Romania's cities, moving to a clean, circular economy, boosting the efficient use of resources in urban areas on a long term: sustainable green buildings; environment-friendly technologies aiming to achieve zero pollution production and consumption and to become climate neutral; efficient water consumption; initiatives of organizations, associations, NGOs to raise awareness.
RISING CITIES. SMART FUTURE 2021 is a #EUGreenWeek partner event.
The event will took place at the Sole Restaurant, located on the 15th floor of Crystal Tower Bucharest, the rooftop location offering an inspiring view of the #RisingCity & #SmartFuture below.
From the Agenda
10:30 – Panel 1 | Challenges and opportunities for a sustainable environment within a modern city
∙ Green and smart buildings as a complex combination of technologies and services that ensure energy efficiency, health security, improving the lives, health, and wellbeing of citizens and employees.
∙ Building communities: a focus on what matters most to make cities more inclusive & sustainable.
∙ Real commitments towards investments in environment-friendly technologies, aiming to achieve zero pollution production and consumption and to become climate-neutral players, by cutting pollution and using 100% regenerable green energy.
Speakers:
Radu Mihaiu, Mayor of the 2nd District Hall of Bucharest
Florin Birta, Mayor of Oradea
Marius Persenea, Chief Operating Officer IULIUS
Victor Iancu, Director Advisory KPMG & ICC Lead Expert
Tinu Sebesanu, CEO Impact Developer & Contractor
Eduard Dumitrascu, Moderator | Smart City Expert & President of The Romanian Association For Smart City And Mobility
12:00 – Panel 2 | Unleashing the full potential of a smart city
∙ Innovative transportation experience: better urban mobility solutions;
∙ Infrastructure – a key challenge;
∙ Green and smart technologies, increasing the life quality of citizens.
Speakers:
Stelian Bujduveanu, Deputy Mayor of Bucharest
Alexandru Nen, Solutions Architect Smart City & IoT, Telekom Romania
Cecilia Tudor, Managing Director Renault South Eastern Europe
Sabin Itu, GDPR Compliance Program Manager SEE & Sustainability Leader, Schneider Electric
Luana Bidasca, Policy Officer at European Commission DG MOVE
Carmen Adamescu, Moderator | Partener, Head of Technology, EY Romania
13:30 – Panel 3 | Sustainable Living: Passionate City Changers
∙ Urban visionaries inspiring leaders of the future;
∙ How do we create urban spaces for people to flourish?
∙ Initiatives of organisations, associations, NGOs to raise awareness and to involve citizens;
∙ Districts: make them liveable – architecture and district visions hand in hand for cities redevelopment.
Speakers:
Corina Murafa, Global Co-Leader New Now: Planet & Climate, Ashoka Romania Special Advisor
Florin Stoican, President, Parcul Natural Vacaresti Association
Ionut Georgescu, CEO, FEPRA International
Andreia Mitrea, CEO & Founder, Colina Learning Center
Razvan Popa, Co-Owner, Boiler
Oana Vasiliu, Moderator | BR journalist – Cultural Permanent Section ∣ Founder ideiroscate.ro