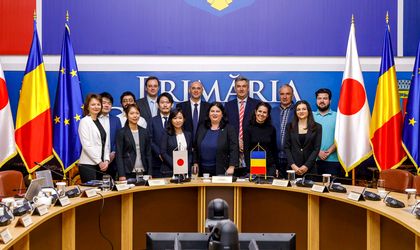 On April 11, NTT DATA, a global leader in IT infrastructure and services, launched the ClujID project, which aims to innovate the public services offered to citizens by the Cluj-Napoca City Hall, through the use of the most modern digital tools available in the company's ecosystem, in order to give people a reliable and trustworthy digital identity.
This project is supported by the Japanese Ministry of Internal Affairs and Communications (MIC) and collaborates with a key implementation partner, QUNIE CORPORATION, a Japanese business consulting firm of NTT DATA Group directly commissioned by MIC.
As part of the Japanese group of IT services and solutions, NTT DATA Romania brings unparalleled technological advantages to the development of the ClujID application. With a global network of experts and a culture of continuous improvement, the company is uniquely positioned to provide the best possible digital identity solutions to the residents of Cluj-Napoca and top-notch services that meet the ever-evolving needs of today's digital world.
The distinguishing feature of the solution is the Privacy Preserving Biometric Authentication, in compliance with GDPR rules and in line with the national and European digital identity strategies. This means that all user-specific data will be stored in encrypted databases and the user will be the sole person with access to it through biometric authentication, a security protocol that relies on the unique biometric characteristics of individuals to verify their identity.
"Digital identity is an essential component of our modern lives," said Maria Metz, CEO of NTT DATA Romania. "We believe it is our responsibility as an innovative IT company to encourage the adoption of new standards and performance of digital identity in Cluj-Napoca. Through this, we can ensure that we make the most relevant contribution to digital protection and that citizens can benefit from secure, digital, automated and integrated public services."
This app will improve the quality of life of citizens by eliminating individual and repetitive certification processes when citizens access public services and by reducing unnecessary mobility in the city caused by the need to physically access public services, thus contributing to the achievement of the double transition (green and digital). Account creation is also achieved by validating the citizen's identification data through biometric technology based on artificial intelligence.
"Digital identity, as a means of accessing public services, is an essential tool to ensure that our citizens can choose the online medium to address their concerns and to reduce unnecessary travel within the city, which contributes significantly to pollution. The high degree of openness towards the adoption of digital tools in Cluj-Napoca, as well as the commitment of local authorities andNGOs to ensure access and inclusiveness towards digital transformation, places ClujID as a must for all social actors in the city. Its widespread adoption will also boost the digital literacy of the whole community, which is vital in the current digital era." stated Emil Boc, Mayor of Cluj-Napoca.
This initiative is part of Cluj-Napoca City Hall's broader mission to address the need for digital transformation with customized and locally created solutions. ClujID is an important step towards the future integration of the national authentication system (ROeID) as an identity provider. By creating a prototype and testing it under real-life conditions in the live innovation lab in Cluj-Napoca, NTT DATA Romania aims to validate and deliver a potentially scalable version, encouraging Romanian talents to become more innovative and contribute to the #NewEuropeanInnovationAgenda.