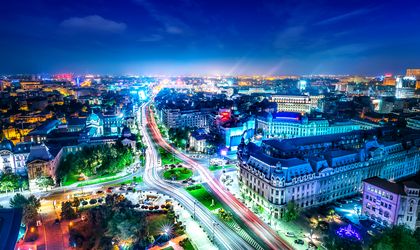 After four years at the helm of Romania's capital city, Bucharest General Mayor Gabriela Firea sat down with Business Review and told us about some of the projects which have made Bucharest a smarter city during her tenure and how important it is for local authorities to have a clear, long-term urban strategy in order to keep up with the city's development.
By Anda Sebesi
Bucharest has recently been named one of the best cities in Europe in which to work from home. However, it is not yet a fully digitalized city, and the issues caused by traffic and crowding are affecting everybody in the city. How has Bucharest evolved over the last 10-20 years, what has been done so far, and what should have been done?
The city's sustainable development involves finding a balance between the current situation – which in many respects is unfavourable – projects which have been started but not yet completed, and future plans. It doesn't matter how good of a vision the mayor has; if it cannot be translated into something practical through well-articulated strategies, failure will be inevitable.That is why, before I even started implementing the bold projects I had imagined for Bucharest, I had to adopt a very methodical way of working. We looked at all the projects that had been started by my predecessors and had been left stranded at various stages. Where possible, we cleared the obstacles, and many of these projects have either been successfully completed or are close to being finished. At the same time, we have been working on strategies meant to serve as frameworks for the next 20-30 years, which have been approved by the General Council following many public debates.
What are the urban development plans for the next 20-30 years that could transform the city into a real European metropolis?
We have a Sustainable Urban Mobility Plan, which sets priorities for urban development until 2030. It is a multidisciplinary plan, which includes infrastructure works, modernising public transport, developing alternative means of transport, and implementing smart city-related concepts. The Integrated Air Quality Plan has also been approved, consisting of a clear set of measures to reduce pollution in the city in the coming years. We have a Heating Strategy, a Smart City Strategy, as well as interconnected documents to help us determine which steps we need to take in order to reach our objectives.
Last but not least is a project which has been underway for too long: the General Urban Plan of the Municipality of Bucharest. Without a carefully planned project, the city's development would come to a standstill. Therefore, we have taken all the necessary steps and given all due diligence in order to eliminate roadblocks and to give this project the boost it needs. I hope to be able to share it with all interested parties as soon as possible. My conclusion after these four years is that a single term as mayor is not enough to develop the city – only to manage it. Only a second term can determine the skill and vision of a mayor. Things are very clear for me now. I know exactly where I'm starting from, what I have to do, what resources I need, but also the conditions I must deal with.
What are the more detailed plans for infrastructure, consolidation, transport?
Public transport was a priority of my first term as general mayor, this being the key to solving two major problems in Bucharest: traffic and pollution. In 2016, we found an insufficient, outdated public transport fleet, which no longer met the demands of a European capital. Despite the obstacles raised by cumbersome and somewhat confusing legislation, we managed to renew the STB fleet with 830 vehicles. We have also continued to expand the smart traffic lights project. The smart traffic management system included only 170 out of 450 intersections in 2016, added over the course of 10 years, and now the system is operating in 236 intersections across the city. In terms of building consolidations, in the last 28 years, only 20 buildings had been rehabilitated in Bucharest,  but we have managed to start working on as many buildings in the space of just two years, of which 10 have already been completed, and the others are in advanced stages. In total, over 220 buildings were included in the seismic risk reduction programme and they are all in various preliminary stages of the process: expertise, design, safety, authorisations, etc. When it comes to European funds, one of the first things we did was to create a General Directorate whose responsibility would be attracting funding of any kind, especially non-refundable. Thanks to the effort and skills of those working in this department, we have managed to bring in significant amounts of money for city development projects.
Last but not least, all infrastructure projects have been restarted. Four years ago, Bucharest had very few infrastructure projects, as many of them were blocked. We restarted and completed a part of them, such as the Sudului Underpass, while others are still in progress, nearing their completion deadlines, namely: the broadening of Fabrica de Glucoza Rd. and Ghencea Blvd., the Ghencea -Domnesti Extension, the Grant Bridge, etc. To streamline traffic in a challenging area like the Doamna Ghica Street and Colentina Road junction, we decided to build an overpass with two lanes in each way.
How many smart city projects have been completed so far and what are the plans for the coming period?
At the beginning of my term, I found a deep need for an overhaul in the extremely complex operational structure of municipal public services. Public services provided to citizens needed a substantial qualitative improvement. In order to achieve this we really needed to change the way we worked, and STB was an important example in this regard. Moreover, most services were in need of an urgent upgrade of their facilities, technologies, and processes, starting with the employees, in order to better respond to the citizens' needs. Therefore, we reorganised public services into specialised companies for each type of service, and completed this approach by developing a Smart Strategy. We are currently in a new development stage, transitioning to a "smarter" city, which entails using more and more modern technology in designing public services, in order to increase their quality and facilitate access for the city's inhabitants and visitors. Behind this digitalization process is an entire system, an infrastructure developed by a team that works tirelessly to make sure progress is made seamlessly.
What is the degree of digitalization in the local administration and what are its development plans?
When I took office, the capital was far from being a smart city. It did not even have a basic communication infrastructure between municipal institutions; investments or plans to invest in technology were at a minimum level. Had this strategy been developed then, considering the maturity of the city, it would have probably been well below standard. Since we couldn't afford to wait until a strategy was developed, and because there was a clear need to include modern technology into municipal services, essential projects were started before the strategy was actually ready. In fact, a series of project recommendations for each sector – transportation, environmental, health, etc. – were included in other strategies, plans or documents.
We've made good progress – I will list just a few apps making life in Bucharest easier. B-Pay is the free mobile app launched in January 2020 which allows people to pay for public transport in Bucharest and Ilfov using a bank card. In relation to B-Pay there are two other useful apps: UAT Inspect – an app for ticket controllers to scan the QR codes generated by B-Pay app, and InfoSTB (renamed to InfoTB this year), which provides real time information about the public transport network, with over 170 urban and regional lines and over 1,500 vehicles operating in Bucharest and the metropolitan area. Traffic Alert Bucharest is an app that aims to improve traffic conditions in the city. Additionally, we developed Parking Bucharest, an iOS and Android mobile app launched in 2019 to help people find a parking spot quickly, pay for it easily, and therefore save precious time. Yet another helpful app we developed is Social Alert Bucharest, whose aim is to allow people to notify local authorities (DGASMB) about people in need for social assistance. We will soon complete the Tourism, Cultural, and Spiritual Guide, an electronic guide for over 1,000 tourist attractions, which can be accessed from mobile phones using QR codes.
A Smart City doesn't just mean a well-developed infrastructure and digital services, but also hospitals with state-of-the-art equipment and doctors connected to technology. Where do we stand in this regard and what are the goals for the coming years?
The City Hall has built two modern hospitals: the Dr Victor Gomoiu Children's Clinical Hospital and the Foisor Clinical Hospital for Orthopedics-Traumatology and Osteoarticular TB. We've built new wards at the Ion Stoia Rheumatology Hospital, as well as the Dr Carol Davila and Ion Cantacuzino Hospitals. The integrated outpatient clinic of the Dr Gomoiu children's hospital was modernised using European funds. We are in the process of building a new outpatient clinic at the Victor Babes Hospital. Over the last four years, the City Hall has invested approximately EUR 37 million in medical equipment and facilities alone. In addition, the Sfanta Maria Hospital has also seen important investments, most notably in the lung transplant department, which is unique in the country – allowing the surgical team to perform 8 successful lung transplants last year.