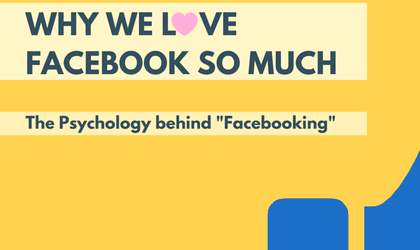 Lots of studies have worked toward figuring out what exactly goes on in our brains when we're participating in social media—specifically, Facebook. XPLAIN tells us more about the psychology behind  "Facebooking".
A recent one discovered a strong connection between Facebook and the brain's reward center, called the nucleus accumbens. This area processes rewarding feelings about things like food, sex, money and social acceptance. When we get positive feedback on Facebook, the feeling lights up this part of our brain. The greater the intensity of our Facebook use, the greater the reward.
So nothing comes entirely by accident. There is science and psychology that explains why so many of us are glued to Facebook.
Research predictably suggests that clicking "like," the superficial currency of online human connection, makes you feel involved. Like you care. You Like because it's a quick and easy nod, because you want to affirm something about yourself or to express virtual empathy.
When it comes to how we choose to like brands and companies, the motivation is a bit simpler. A Syncapse study found that most people seem to make these decision based on practical reasons, like wanting to receive coupons and regular updates from companies they like.
But what about posting?
A Pew Research study shows that although users "like" their friends' content and comment on photos relatively frequently, most don't change their own status that often. This makes sense, given that the same study showed that "oversharing" was one of Facebook's biggest annoyances for users.
Also, researchers at the University of Arizona monitored a group of students and tracked their "loneliness levels" while posting Facebook status updates. The study found that when students updated their Facebook statuses more often, they reported lower levels of loneliness. This was true even if no one liked or commented on their posts! Researcher link the drop in loneliness to an increase in feeling more socially connected.
On the other hand, when people see their social media statuses are not being engaged with as much as their peers, they can begin to feel like they don't belong, as seen in this experiment.
As you can see there's no shortage of theories.
Here's a neat and tidy compilation of them, packed conveniently into another insightful infographic you won't want to miss, from Entrepreneur.