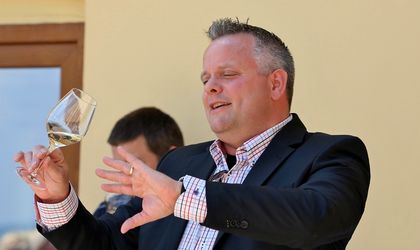 For the German-born and educated oenologist of the Stirbey Winery Estate Oliver Bauer, who set up his own winery in Dragasani in 2012, living means taking risks. Fond of Romania and its diversity, he is a tireless promoter of the country's indigenous grape varieties and the wines they produce and welcomes to its winery those interested in knowing more about wine.  
When he arrived in Romania in 2004, after a meeting with owners of the Stirbey Winery Estate in Dragasani, Oliver Bauer planned to stay for two months in Romania and help revive the historic winery.
Fourteen years later, he is still the oenologist of the Stirbey Winery Estate, which has developed into one of the finest labels on the Romanian market, and has opened his own, Bauer Winery, one kilometre away from the historic winery.
Here, he creates wines that reflect his passion for the traditional Romanian traditional grape varieties growing in Dragasani by applying the skills he developed as a winemaker and maintaining a critical approach to the process of making a good wine that does justice to the terroir and becomes a cultural product.
Visiting the winemaker at his home
A visit to the Bauer Winery is unlike any other, because here you will not be given a tour of the winery by a tour guide but will be welcomed by Oliver Bauer himself in his home.
"If you want to truly understand wine, you must be guided by someone, Bauer says, sitting in the living room of his home in Dragasani, the welcoming venue of tasting evenings he regularly hosts. The winery's entrance is just a flight of stairs below and the hectares covered in vineyard, clouded in mist, just a brief walk away.
"The wine world is a small, closed circle. We start by welcoming our guests in nature, then comes in the hospitality, the food, and then we introduce them to the process of making wine. You can buy the best and biggest wine collection but to understand wine you must talk to someone who makes wine," he explains.
We prefer to welcome groups of between 8 and 15 people, and in any case, not more than 20, because then it becomes hard to focus, he says."We give them firsthand information about how the wine is made. We do much more than serve a glass of wine. We are seeing an increased interest from young people who want to know more about a good quality product."
Bauer considers that the trust of the clients is very important for winemakers."We are a small winery and we make a living out of it. I want to have a connection with the people who drink our wines. If you come over to see how the product, which is an artisanal one, is made, and you see the wine in all its stages, all things come together. And then you make the connection. And you can create joy."
"For us creating a personal connection comes naturally. To us, what we do is not a job, it is our lifestyle.Those who come over can join us for a part of the day," he explains.
In Romania there is a closeness between people and vineyards because everyone grew up close to their grandparents' vineyard, he notes."But those who truly love wine will go over and beyond, because otherwise things stay at a superficial level. It's the same with making food: everybody can cook, but not everyone is a chef."
Currently, at the winery, "we see a lot of people aged over 60 years", he says. "Foreigners, Germans who come in groups of 30, 40 and spend 10 days in the country and come to us by chance. Also, winemakers visit us after they find out there is a German who makes wines and come visit us," he recalls a recent visit.
"Ideally, I would like to have a wider range of ages, starting from 18 and beyond until the age you are active at," he says. "But the main characteristic should be interest," he says of the profile of the ideal visitor.
"They should come for the wine, to have an open mind for the wine. We are not bothered when they come for the views, because they are connected. But we want to receive people who love wine and come for it," he says.
No age is too small for a visit to the winery, Bauer's wife and business partner Raluca adds. "As part of the 'Different week', (Saptamana altfel) we also had children visiting, she recalls. They came wearing elbow pads, as parents did not know what to expect when sending them to pick grapes at a vineyard – and came back with baskets full of grapes."
However, not everyone makes a good fit with the vision Bauer practices when it comes to winemaking in his winery, which essentially caters to a niche consumer. "The majority of people doesn't really match our reality all the time. Because there are a lot of people who want to simply have a label that has become a brand, and they buy that, just like they would with an aftershave," he says.
During the visits, he plays bad cop, while his wife Raluca is the good cop. "Not everything is possible, says Bauer hinting that he adds his personal German rigour to the Romanian hospitality he wholeheartedly practices in the heart of Oltenia.
"What I do not like is when somebody is stealing my time", says the winemaker, who expects guests to share, if not match his interest in the world of wine and will go to great lengths to entertain those who do. "My week-ends are full and there are a lot of things to do. Everybody's darling is everybody's idiot," he warns those who might fail to miss the fact that there are dos and don'ts when visiting the Bauer Winery and home of Oliver and Raluca Bauer.
"But then… you have the geeks of wine," he adds with a smile. "And we are here for both categories. We offer an introduction into the culture of wine."
Taking a stand against the 'coca-colisation' of wines
"Those who want to buy Pinot Noir should go to France, those who want to buy Riesling should go Germany and those who want to buy Cramposie or Sauvignonasse should come over to Dragasani," Bauer argues.
A vocal supporter of Romanian indigenous grape varieties, he believes Romanian winemakers should channel their talent, energy and effort towards making original wines that highlight the tremendous potential of Romania's variety.
"There are very big differences between wines. We can talk about the 'coca-colisation' of wines. For a category of consumers, it is not important what wine you drink, as long as you have alcohol. Today those who want to drink good wines need money, culture and curiosity. All three of them are compulsory," he argues.
"The special thing about Bauer wines is that they are niche wines. The quantities are very small, just like our market share, which is limited. What we do requires a lot of interest and money – our wines are not cheap and need the client's wish to consume something different."
Romania – a winemaker's El Dorado
For Bauer, Romania's potential, which he likens to an El Dorado of winemakers, can never be stressed enough.
"In Romania we have around 175 wineries that bottle wine. In the Dragasani area there are 20 wineries. In France, there are more than 8,500 wine producers in Bordeaux alone. They have a mature, complex industry that has evolved over hundreds of years. Romania is an El Dorado for any winemaker. Here it is much easier to enter the market. What me and Raluca did here would not have been possible in Germany."
"For me, Romania is a country similar to France, from the point of view of the variety of wine producers. They have good quality wines because they have been doing this for 100 years. But, unlike them, we haven't been able to discover the full potential and to make the best of it."
"We are losing energy on the way, we are putting our time and effort into making famous wines and trying to copy them and sell them cheaper. My business plan is to navigate the rougher periods and to create and implement our original wines. To create originals that have the potential, with time and consistency, to become classics."
To live means to take risks continuously
"To live means to take risks continuously," says Bauer, with a strong hint that this is something he truly lives by. " It is important to take a risk for something you believe in. And if you want to take a new path, there isn't anybody who can tell you how to do things. Those who walk in the footsteps of others, will never supersede them."
"When we opened for clients in 2004, everyone said we are crazy," he recalls of the decision to open the doors to the Stirbey Winery Estate winery back then. "They said: you make the wine, we are in the horeca business and we sell it for you. Those who entered the winery first were the brave ones. But now there are only a few wineries that do not welcome visitors." But the biggest risk he took on was to create the wines not the market wants, but those that can best be made in Dragasani using his long honed skills.
Bauer says his wines are a niche within a niche, and the impact on the market is insignificant.
"We are a small winery but an avant-garde one. We do not make wine for the market, in line with what the market wants. We are making the wine that our terroir tells us is the best wine to make. In Burgundy there are two types of grapes: Chardonnay and Pinot Noir. They know this is what works best for them and this is what they make."
At Bauer Winery they make 11 wines. "What we do at Bauer is different because we have a mature vineyard, 30 years older and above. That is why our crop per hectare ranges between 3 and 7 tons, maximum. The quality is more constant and you can see the maturity. Just like with people, a more mature vineyard makes less grapes but better ones. But is the conditions are not ideal, a more mature vineyard can withstand adversities better than a younger one, because it is more robust."
"A vineyard can also have a heart attack, it really has a lot in common with us humans. Good quality grapes are more expensive. Picking them by hand is more expensive. The wine needs to be filtered, and although the quantity is smaller, the effort is the same. And overall, making a litre of wine here is more expensive than one litre produced in a bigger winery."
"You cannot make artisanal, nice wines in large quantities. We bottle 35,000 bottles. This is the quantity we can make ourselves. And this is important, because every client who buys a bottle of wine knows that it is made by me. Just like with paintings, there are copies and there are originals. I prefer to make originals, not copies. People with curiosity, culture and money go after the originals."
One euro made in the IT sector does not equal one made in agriculture
"What people see when they visit, is the good part", he notes. But what is not apparent at first glance perhaps, is that for a winemaker or someone working in the field of agriculture, "the part when you get to feel good comes later on the road. Other fields, such as IT, management, consultancy give results immediately."
"But what is important is to have the knowhow. In Romania there is a lack of professionals and a lack of professionalism. I worked nine years towards my diploma," he says.
At his winery, he holds training sessions regularly for those in horeca who want to know more about Bauer wines and truly believes in the importance of knowing thoroughly the product you are selling and ultimately, consuming. "Our voice is too quiet still," he ponders. "We have been doing this for 14 years and nothing has changed. We have been holding trainings for people in the horeca business. They can come here for one day and we can walk through the vineyard, winery and provide them with an overview of the type of grapes. Wine is a cultural product that makes our lives richer. If you know what to eat and what to drink you have a healthier lifestyle."
"That is why, more awareness is needed. It is much easier to make one euro from IT than from agriculture. When you make one euro from agriculture, this equals a victory. This is a pity, because we cannot motivate youth to put more effort in education, to work without receiving gains immediately but to gain experience instead, if this is something for you. Lack of good education, talent, incompetence and the lack of experience can harm a winery."
Photos courtesy of Revino.ro.