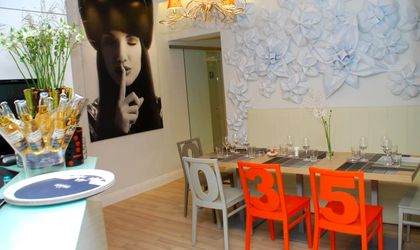 At a loose end? BR brings you the best of Bucharest's cultural highlights for the weekend ahead.
CLASSICAL MUSICAL
Classic meets jazz
Radio Hall
April 5, 19.00
Composer and conductor Sabin Pautza will join the saxophonist Nicolas Simion and the pianist Antonis Anissegos in "Classic meets jazz", a Radio Hall classical – jazz fusion concert. The event is part of "Born in Romania" concept, where we celebrate Romanian artists living abroad and they are invited to make live appearances at the Radio Hall. The Friday concert will include works by Nicolas Simion – "Poem for Jancsy Korossy", Nicolae Coman – "Concert for Piano", Richard Oschanitzky – "Antphonies".
FAIR
Absolutely Fabulous Fashion & Vintage Fair
April 7, 11.00-19.00
Hotel Ambasador, 8-10 Magheru
If you want to capture images of those passionate about fashion, as well as to support the Romanian vintage trend and its young designers, this is the place to be.
HANDMADE PAINTING
April 4, 19.30
Coftale
Address: 42 Profesor Ștefan Mihăileanu Street
"Arts don't bite" association invites us to a coffee tasting event, where you can paint your own cup. Moreover, Daniel Radulescu, the graphic designer, will work on a piece of art made entirely with coffee.
FILM
Cinepolitica International Film Festival
Cinema Studio, Cinema Elvira Popescu
Until April 7
Cinepolitica will once again offer movie lovers a selection of political films, debates and memorable meetings, aiming to expose political mechanisms and motivations to the audience through the art of cinema. Besides the eight titles in the international competition, which will vie for the Cinepolitica Trophy and Special Award, the festival will feature screenings of famous full-length movies, as well as short films with a political theme (fiction, documentary and animation), in the Panorama section. Most of the titles will be screened as Romanian premieres, and will be presented in Bucharest by their directors and producers.
April 4, 19.00, Cinema Elvira Popescu – Witness to Hope: The Life of Karol Wojtyla, Pope John Paul II
Competition movies, Cinema Studio: 80 Million / 80 milionów (14.00), The Gatekeepers (16.00), Camp 14: Total Control Zone (18.00), Redemption Street / Ustanička ulica (20.00).
April 5, 21.00, Cinema Elvira Popescu – The resounds of the valley
Competition movies, Cinema Studio:  Redemption Street / Ustanička ulica (14.00), Camp 14: Total Control Zone (16.00), Rock the Casbah (18.00), S.B. I Knew Him Well/ S.B. Io lo conoscevo bene (20.00).
April 6, 14.30, Cinema Elvira Popescu – The Exam / A vizsga, Hebrew for sale (18.30), Hitler's Children (20.00).
Competition movies, Cinema Studio: S.B. I Knew Him Well / S.B. Io lo conoscevo bene (14.00), Rock the Casbah (16.00), Clandestine Childhood  / Infancia clandestina (18.00), Lore (20.00).
April 7, 20.00, Cinema Studio – The Company You Keep.
EXHIBITION
The Human Body
Antipa Museum
Until June 30
One of the most realistic exhibitions in the world, The Human Body, will stop for the first time in Bucharest, at Antipa Museum, from March 22 to June 30.  The exhibition includes more than 200 pieces – human bodies which through dissection of organs and tissue offer a three dimensional perspective of the miracle of the human body.
Pavilion Unicredit (36 C.A. Rosetti)
Until July 7
OPENING:  04 April 2013, 19.00
In the exhibition "Common nostalgia", which will be open between April 4 and July 7, the artists started from the premise that the subjectifying of the loss and the objectifying of the feeling of losing something that could reduce the consistency of the nostalgic type of living, because the exhibited works assume to reach all means of the idea of nostalgia. From "love", a feeling coming from a casual past, which becomes the subject of what can be assimilated, to the "nostalgia" of the family memories, micro cosmos, of a place with your own people. ("Ostalgia" is a sociological german term coming from "nostalgia" and "ost" which means "east", therefore nostalgia of the East, in its geopolitical meaning.
Curator: Eugen Rădescu. Participants: Dan Raul Pintea (RO), Ștefan Sava (RO), Nicolae Constantin Tănase (RO), Swel Noury (MAR)
Testimonials. The Frescoes from the Arges Monastery
National Museum of Art of Romania
Until May 26
The Arges Monastery, a flagship example of Romanian culture, was restored between 1875 and 1882 under the supervision of architect André Lecomte du Noüy, a practitioner of French conservationist principles. The original mural painting had to make room for an entirely new one: only 35 fragments were considered worth preserving. Some 31 of them were restored between 1990 and 2012 and are now on show together for the first time.
DISCOVER BUCHAREST
Art in Bucharest tour: artists' studios tour
April 6, 11.00
Meeting point: Universitate (metro exit, ColteaPark)
Reservations: mircea@artinbucharest.com / 0746 11 00 33.
Tour available in Romanian and English, RON 80
With "Art in Bucharest", you can discover your creativity by participating to an art tour in Bucharest – painting and music. During three hours we'll explore the artistic world of Bucharest when we'll visit Cela Neamțu – a dedicated tapestry artist, Vasile Mureșan Murivale – the excentric painter who tells the story of its pictures with God and we end this tour with music – Mircea Dumitrescu – a young artist who is going to sing divine music with his violin at Merci Charity Boutique.
LECTURE
To be faithful or not? Stakes and limits of film adaptation
April 5, 19.00
Pavilion Unicredit (36 C.A. Rosetti)
Based on Dostoyevsky's short story A Weak Heart, The Man Who Sold The World unfolds as a literary and metaphysical tale of a young clerk, inept to cope with his inner turmoil. As he cannot accept the joy the marriage with a beautiful cabaret performer renders, the protagonist descends into a mental state of delirium and psychosis. Said Bey's award-winning lead is a staggering demonstration of multi-facetted acting. His feverish appearance is hauntingly captured in painterly influenced wide-lens cinematography, intriguing sound design and a tentative narrative, which seem to confuse not only the film's declining hero. Set in an anonymous, post-apocalyptic landscape, with a theme reminiscent of Camus, Kafka and Orwell, the film explores the individual's vulnerability in an autocratic society where love and tolerance are scarce. The lecture is given by Swel Noury (MAR), the son of Hakim Noury, a famous Moroccan film director and Pilar Cazorla, a Spanish producer.
GOING OUT
Lett's Restaurant
35 Radu Beller, Dorobanti area
The restaurant (in picture) presents itself as an elegant, modern one, with minimalist decorations and a cuisine specialized in Mediterranean recipes, but also with meat, fish and seafood. With a capacity of almost 100 persons, the restaurant hosts live music evenings. More details, here.
Oana Vasiliu