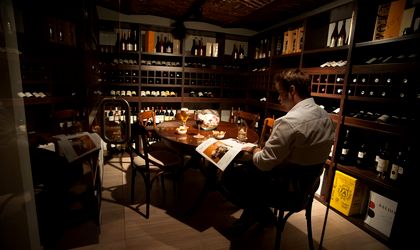 At a loose end? BR brings you the best of Bucharest's cultural highlights for the weekend ahead.
OPERA
Turandot – Giacomo Puccini
Bucharest National Opera
March 15, 19.00
The opera was inspired by a Persian fairy tale, set in China, about a cruel princess and the prince who tries to win her heart. This production is designed by Giuseppe Adami and Renato Simoni, staged by Stefan Neagrau and conducted by Tiberiu Soare.
Don Giovanni
Bucharest National Opera
March 16, 19.00
Based on the legends of Don Juan, a fictional libertine and seducer, "Don Giovanni" is the latest performance of the Bucharest National Opera, which has had the premiere on February 17. Under the wand of Vlad Conta, Mozart's characters are represented by Don Giovanni – Eugen Secobeanu, Il Commendatore – Marius Boloș, Donna Anna – Edith Borsos, Don Ottavio – Andrei Lazăr, Donna Elvira – Antonela Bârnat, Leporello – Radu Ion.
CLASSICAL MUSIC
Fenyo Laszlo cello concert
Radio Hall
March 15, 19.00
Fenyo Laszlo, one of the greatest European contemporary cellists, will play together with the National Radio Orchestra the "Concert in B minor for cello and orchestra",   celebrating the Czech composer Antonin Dvorak. The concert will be performed under the wand of German conductor Gerd Schaller, who conducted several musical ensembles in Germany. Part two of the concert features the "Symphony in D minor" by French late-romantic composer Cesar Franck.
BALLET
Giselle – Adolphe Ch. Adam
Bucharest National Opera
March 14, 19.00
The two acts ballet was inspired from a poem by Heinrich Heine. The ballet tells the story of a lovely peasant girl named Giselle who has a passion for dancing, and when she finds out the man she loves is engaged to someone else she dies of a broken heart.
LIVE MUSIC
Ana Maria Popa and Catalin Cotelin
Doncafe Brasserie Pipera
March 16, 20.30
Doncafe Brasserie organizes a night of unplugged music featuring Ana Maria Popa, voice and Catalin Cotelin, piano.
Address: Pipera, 41 Erou Iancu Nicolae, bis1.
PERFORMANCE PROJECTIONS
The MET: Live in HD – Francesca da Rimini
March 16, 18.00
Zandonai's early 20th-century melodrama Francesca da Rimini returns to the Met for its first revival in more than 25 years, in Piero Faggioni's opulent and realistic production. Marco Armiliato conducts Eva-Maria Westbroek in the title role of a noblewoman who is tricked into marrying the brutal Gianciotto, sung by Mark Delavan, instead of her true love Paolo, sung by Marcello Giordani. Robert Brubaker sings the wicked Malatestino, whose jealousy incites a murder.
FILM
March 11-17
Cinema Patria, Cinema Union, Cinemateca Eforie, Cinema Corso, the Peasant Museum's Studioul Horia Bernea, The French Institute's Cinema Elvire Popesco, the Czech Centre/Centrul Ceh
The sixth edition of One World Romania, a film festival dedicated to human rights documentary will put on display themed movies. One of this year's special events is Holocaust documentary Shoah, released in 1985, but never seen before in Romania.
This year, the main theme is "Hate Is Bad for Your Health" (Ura dauneaza grav sanatatii). According to the organizers, since the last edition of One World Romania, the amount of hate and intolerance per square meter has exponentially grown.
EXHIBITION
The rest is tomorrow
Galateca Gallery
Until March 31
The fashion exhibition The Rest Is Tomorrow was initiated by ICR London, at the invitation of British Council and British Fashion Council to participate in the International Fashion Showcase section, part of the London Fashion Week manifestation.
Six outstanding Romanian designers were selected by the Romanian Cultural Institute to represent Romania in a competition involving 27 countries. Andreea Badal (Murmur), Lucian Broscatean, Irina Schrotter, Dinu Bodiciu, Doina Levintza and Carla Szabo, along with Kim Attila, the designer of the exhibition were highly appreciated by the jury made up of famous international professional critics : Sarah Mower (Vogue U.S.), Julian Roberts (BBC Blast online editor, fashion designer and professor at the Royal College of Art), Anna Orsini (expert British Fashion Council), Tamsin Blanchard (Telegraph fashion critic) and Oriole Cullen (Victoria and Albert Museum) .
Thus, Romania was on the short list for "Emerging Talent Award 2013″ with such countries as Argentina, Austria, Estonia, Netherlands, Portugal, Scandinavia (Denmark, Norway, and Sweden) and Switzerland. This prize was awarded by the British Council and the British Fashion Council. After long debates, in which Romania was considered for the 1st place, The Rest is Tomorrow exhibition was awarded the 2nd place and the full specialized media and jury attention. The jury was impressed by the Romanian concepts and designs. The prize award ceremony took place on February 17th at the prestigious Somerset House, the headquarters of London Fashion Week.
Lights and shadows
Instituto Cervantes
Until March 31
The Spanish painter Ima Montoya will present at Instituto Cervantes her latest exhibition, "Lights and shadows". Montoya was born and raised on the banks of the Nervion, famous for fishing fleets, ship building and steel production, a place of industry. Like most people from the Nervion she has inherited from this backdrop of hard work and industry she brings to her work the attributes of strength, energy and a sense of purpose. Also like many of her people before her she has traveled across the sea in search of new possibilities.
The artist has lived and worked in Bilbao, Madrid, London, Tokyo, Moscow and now the journey continues in Budapest. A nomadic life has not been a handicap for her but a platform to explore and assimilate influences from diverse cultures. The result is clearly displayed in her work, full of energy, rhythm and movement, never remaining still and where the only constant is change. Influences, techniques, forms, concepts and even language are put into her melting pot. Spanish, Japanese, Euskera, English, Russian and Hungarian, interlaced and overlapping form part of the cultural cocktail that characterizes her work which is vibrant and in which we feel alive.
Testimonials. The Frescoes from the Arges Monastery
National Museum of Art of Romania
Until May 26
The Arges Monastery, a flagship example of Romanian culture, was restored between 1875 and 1882 under the supervision of architect André Lecomte du Noüy, a practitioner of French conservationist principles. The original mural painting had to make room for an entirely new one: only 35 fragments were considered worth preserving. Some 31 of them were restored between 1990 and 2012 and are now on show together for the first time.
GOING OUT
1 Bacani Street, Old City Center, entrance from Lipscani Street
Bucharest's Old Center has a spot for wine lovers who can select their drink from a few hundred labels: Corks. The bar offers a menu of over 300 specialties, and all these wines can be served by the glass, as well. The selection includes fresh or vintage wines.
For wine collectors the bar offers anniversary or medal-winning wines, star wines, wines from the New or the Old World.
Oana Vasiliu