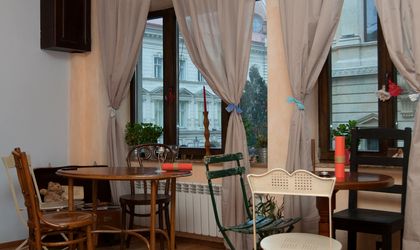 At a loose end? BR brings you the best of Bucharest's cultural highlights for the weekend ahead.
OPERA
A lost letter (O scrisoare pierduta)
Bucharest National Opera
March 1, 19.00
Romanian author I.L.Caragiale is staged at ONB for the first time as an opera performance. Romanian soprano Tina Munteanu will play Zoe, the main feminine character of "A lost letter." Signed by Dan Dediu and conducted by Tiberiu Soare, this performance reveals one of the best Romanian comedies. Together with soprano Tina Munteanu, on stage will be Florin Simionca, Andrei Lazar, Iustinian Zetea, Daniel Filipescu, Serban Vasile.
CLASSICAL MUSIC
Ion Voicu Tribute Concert
March 1, 19.00
Radio Hall
The 90th anniversary of the birth of the Romanian violinist Ion Voicu is celebrated with a concert performed by the National Radio Orchestra, the first ensemble of which he was a member. The orchestra will be conducted by  his son,  Madalin Voicu. Pianist Horia Mihail is the guest of the evening.
PERFORMANCE PROJECTIONS
The Light Cinema
March 2, 19.00
Jonas Kaufmann makes his Met role debut as the title character in Parsifal, conducted by Daniele Gatti and directed by noted film and opera director François Girard in his Met debut. "Parsifal is not just an opera—it's a mission. At the end of his life, Wagner was trying to reconcile all the aspects of his spirituality. It's a sacred piece in the history of music," Girard says. The cast also features Katarina Dalayman as Kundry, the mystical woman who tempts Parsifal; Peter Mattei in his role debut as Amfortas, king of the Knights of the Holy Grail; René Pape in one of his greatest roles, the wise old knight Gurnemanz; and Evgeny Nikitin as the magician Klingsor.
EXHIBITION
Lights and shadows
Instituto Cervantes
Until March 31
The Spanish painter Ima Montoya will present at Instituto Cervantes her latest exhibition, "Lights and shadows". Montoya was born and raised on the banks of the Nervion, famous for fishing fleets, ship building and steel production, a place of industry. Like most people from the Nervion she has inherited from this backdrop of hard work and industry she brings to her work the attributes of strength, energy and a sense of purpose. Also like many of her people before her she has traveled across the sea in search of new possibilities.
The artist has lived and worked in Bilbao, Madrid, London, Tokyo, Moscow and now the journey continues in Budapest. A nomadic life has not been a handicap for her but a platform to explore and assimilate influences from diverse cultures. The result is clearly displayed in her work, full of energy, rhythm and movement, never remaining still and where the only constant is change. Influences, techniques, forms, concepts and even language are put into her melting pot. Spanish, Japanese, Euskera, English, Russian and Hungarian, interlaced and overlapping form part of the cultural cocktail that characterizes her work which is vibrant and in which we feel alive.
Testimonials. The Frescoes from the Arges Monastery
National Museum of Art of Romania
Until May 26
The Arges Monastery, a flagship example of Romanian culture, was restored between 1875 and 1882 under the supervision of architect André Lecomte du Noüy, a practitioner of French conservationist principles. The original mural painting had to make room for an entirely new one: only 35 fragments were considered worth preserving. Some 31 of them were restored between 1990 and 2012 and are now on show together for the first time.
DISCOVER BUCHAREST
March 2, 11.30-14.00
Reservations: v.mandache@gmail.com / 0040 (0)728.323.272
Tour available in Romanian and English, RON 30
The guide offers a thematic architectural tour on the subject of the mature phase of the Neo-Romanian architectural style, when it reached the apogee in terms of expression and development. That represents an extraordinarily creative period, in the first decades of the c20th, which produced the most iconic and accomplished edifices in this manner of design specific to Romania and neighboring regions where the country had influence.
March 3, 11.30-14.00
Reservations: v.mandache@gmail.com / 0040 (0)728.323.272
Tour available in Romanian and English, RON 30
The tour offers a guide through a beautiful expanse of Bucharest, which unfurls around CismigiuGardens, the "Central Park" of the city, which is also its oldest landscaped garden. The quarter boasts a balanced mix of architectures ranging from Little Paris, Neo-Romanian and Art Deco, and also representative church buildings, various species of neo-Gothic and triumphalist Mussolinian styles.
GOING OUT
Altogether different from the designer fashion boutiques across Bucharest, Merci Charity Boutique is the perfect place to discover hand-made items or enjoy a cup of aromatic tea – and all in a good cause. Located in the OldTown, just above French Bakery, Merci is Romania's first boutique charity shop – a popular trend worldwide – bringing hope to the disadvantaged.
Address: Merci Charity Boutique is located in the Old Town, 13 Smardan Street, above French Bakery. It is open daily from 12.00 until the last customer.
Oana Vasiliu