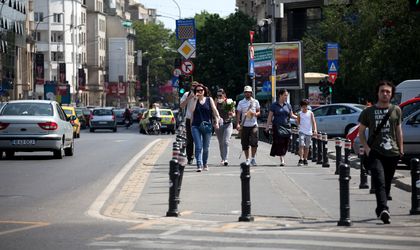 The cultural events calendar is a proposal for spending leisure time in Bucharest. Check out what things you can do across Bucharest.
OPERA
Turandot – Giacomo Puccini
Bucharest National Opera
February 7, 19.00
The opera was inspired by a Persian fairy tale, set in China, about a cruel princess and the prince who tries to win her heart. This production is designed by Giuseppe Adami and Renato Simoni, staged by Stefan Neagrau and conducted by Tiberiu Soare.
La Boheme – Giacomo Puccini
Bucharest National Opera
February 8, 19.00
After the premiere of the tenor Razvan Sararu on the stage of the ONB in the leading role of the play, tenor Liviu Indricau will make his debut in the role of Rodolfo in Giacomo Puccini's "La Boheme." The cast includes Tina Munteanu, Dorina Chesei, Vicentiu Taranu, Marius Bolos, Stefan Schuller, Paul Basacopol, Ionut Gavrila, Adrian Ionescu, Constantin Negru. The conductor will be Vlad Conta.
BALLET
Giselle – Adolphe Ch. Adam
Bucharest National Opera
February 9, 19.00
The two acts ballet was inspired from a poem by Heinrich Heine. The ballet tells the story of a lovely peasant girl named Giselle who has a passion for dancing, and when she finds out the man she loves is engaged to someone else she dies of a broken heart.
CLASSICAL MUSIC
Violin, cello and piano concert
Radio Hall
February 8, 19.00
Romanian cellist  Marin Cazacu returns on the stage of the Radio Hall, accompanied by the pianist Horia Mihail and the violinist Cristina Anghelescu. The evening consists of
Felix Mendelssohn's Trio no. 1 in D minor, op.49 and one of the greatest scores of the Czech composer Antonin Dvorak, Trio no. 4 in E minor, op.90.
PERFORMANCE PROJECTIONS
Grand Cinema Digiplex Baneasa
February 7, 21.00
Fascinated by familiar storylines of love, conflict and loss, choreographer Crystal Pite is interested in the body's role and in the way it can provide the illustrative shape of those stories. The Canadian choreographer aims to reflect the viewer's own tale in her ballets vision. This programme, for which she will create a completely full-length ballet, is wholly devoted to Pite's dance vocabulary.
Grand Cinema Digiplex Baneasa
February 10, 17.00
Don Quixote (Alexei Loparevich), having read his fill of romances about knights and chivalry, decides to set off on his travels in order to achieve great feats, which will bring glory to his name. As his sword-bearer, he chooses the loyal Sancho Panza (Alexander Petukhov), a man of sober outlook who is not prone to dreams. The performance has a new choreographic version, signed by Alexei Fadeyechev.
FILM
Contemporary Mexican films
Instituto Cervantes
February 7-9, from 18.00 and 20.00
Instituto Cervantes hosts a marathon of contemporary Mexican films with English subtitles. Entry is free of charge. For reservations, you can email cult3buc@cervantes.es or call 021.210.27.37.
Thursday, February 7, 18.00: LA HABITACIÓN AZUL (2003, 95 minutes, d.: Walter Doehner)
Description: Toño and his wife, Ana, decides to move back to their home village where they parents are still living, after a long stay in Ciudad de Mexico. When Toño meets Andrea, a friend of youth, and they start an affair repressed when they were young.
Thursday, February 7, 20.00: SEGUNDO AIRE (2001, 98 minutes, d.: Fernando Sariñana)
Rottentomatoes description: A thirty-something couple who met and married before the malaise of adulthood and responsibility took hold struggle to recapture the lost dreams of their youth in a romantic comedy starring Jesus Ochoa. Julia and Moises were idealistic and passionate when they exchanged their wedding vows, and they never imagined that their union would lead to a stagnant life of complacent mediocrity. Determined to re-ignite the passion that fueled their romance back in the beginning, the pair soon find their efforts complicated when Julia is pursued by a handsome young student activist.
Friday, February 8, 18.00: CANSADA DE BESAR SAPOS (2006, 95 minutes, d.: Jorge Colón)
IMDB description: An unlucky-in-love graphic designer catches her boyfriend cheating on her and decides it's better to play the field than settle down.
Friday, February 8, 20.00: NICOTINA (2003, 93 minutes, d.: Hugo Rodríguez)
IMDB description: A real-time dark comedy about a science geek who tangles with a clutch of Russian gangsters after he delivers them the wrong computer disk.
Saturday, February 9, 18.00: AMAR TE DUELE (2002, 104 minutes, d.: Fernando Sariñana)
IMDB description: Renata is a young high-class girl and Ulises is a poor guy. They both fall in love, but they must fight against everyone, specially Renata's rich parents, who want to stop their love by sending her to Canada. The story remarks the difference between social classes in mexico City, and their characters risk everything just to save their love.
Saturday, February 9, 20.00: POR LA LIBRE ((2000, 96 minutes, d.: Juan Carlod de la Llaca)
Rottentomatoes description: During a family dinner in honor of his birthday, patriarch Rodrigo Carnicero (Xavier Masse) drops dead of a heart attack. Among the witnesses are his devoted daughter Pureza (Pilar Ixquic Mata) and his beloved grandchildren Rocco (Osvaldo Benavides) and Rodrigo (Rodrigo Cachero).
EXHIBITION
Testimonials. The Frescoes from the Arges Monastery
National Museum of Art of Romania
Until May 26
The Arges Monastery, a flagship example of Romanian culture, was restored between 1875 and 1882 under the supervision of architect André Lecomte du Noüy, a practitioner of French conservationist principles. The original mural painting had to make room for an entirely new one: only 35 fragments were considered worth preserving. Some 31 of them were restored between 1990 and 2012 and are now on show together for the first time.
Passage to the Future: Art from a New Generation in Japan
National Museum of Contemporary Art
Until February 28
This Japanese exhibition aims to showcase the most varied aspects of the Nippon artistic landscape of the last twenty years. The project, presenting a new generation of Japanese artists, comes to Romania for the first time, after having gone on show in over 20 countries. With the support of the Embassy of Japan in Romania and the Japan Foundation, 42 works will be on display, including paintings, photographs, video art, installations and animated films, by the country's best known artists of the moment, Atsushi Fukui, Satoshi Hirose, Maywa Denki, Tomoyasu Murata, Tetsuya Nakamura, Katsuhiro Saiki, Masafumi Sanai, Yoshihiro Suda, Tabaimo, Nobuyuki Takahashi and Miyuki Yokomizo.
THEATRE
Silence! Kiss. Action!
Odeon Theatre
Every night between February 7-10, 19.30
The show is an adaptation by Peter Kerek based on the Lemon Sky Production of the film, "Living in Oblivion", written and directed by Tom Dicillo, presenting the life behind the set of a love story movie.
DISCOVER BUCHAREST
February 9, 11.00-14.00
Reservations: v.mandache@gmail.com / 0040 (0)728.323.272
Tour available in Romanian and English, RON 35
The tour offers a guide through this architecturally and once ethnically varied area of Bucharest, that took shape during the mid-c19th urban growth of Romania's capital, on the eastern edge of the old city, along the commercial roads leading to the maritime Danube and the Black Sea Ports, once these waterways were freed for international navigation and commerce, following the Crimea War. The architecture comprises of charming Little Paris (historicist French c19th architecture), Neo-Romanian of all three phases (early, mature and late) and Art Deco and inter-war Modernist styles. The area contains a series of architecturally significant old churches and synagogues. Also, the tour includes encounter and examine some of the Bucharest's Jewish community's most significant buildings, such as the Museum of Romania's Jewish Communities (the former Tailors' Synagogue), the Jewish State Theatre, or creations signed by architect Marcel Iancu and other designers of this ethnicity (Zilberman, Mahler, etc.).
February 10, 11.30- 14.00
Reservations: v.mandache@gmail.com / 0040 (0)728.323.272
Tour available in Romanian and English, RON 30
The Art Deco style, peculiar to the late "roaring '20s" and the 1930s was the first truly global architectural style, embraced with gusto by the Bucharest people and the rest of Romania. The city became in those years a veritable Art Deco architectural regional "power", embellished with high quality edifices in this style, many of which are still around, for us to admire and investigate, despite the terrible historical upheavals of the last eight decades in this part of Europe. The inter-war Modernist style and syntheses between Art Deco and Modernism are also well represented in Bucharest, with creations signed by talented architects such as Horia Creanga or Duiliu Marcu.
GOING OUT
Old Town, 13 Smardan Street, above French Bakery
Open daily from 12.00 until the last customer
Altogether different from the designer fashion boutiques across Bucharest, Merci Charity Boutique is the perfect place to discover hand-made items or enjoy a cup of aromatic tea – and all in a good cause. Located in the Old Town, just above French Bakery, Merci is Romania's first boutique charity shop – a popular trend worldwide – bringing hope to the disadvantaged.
Oana Vasiliu