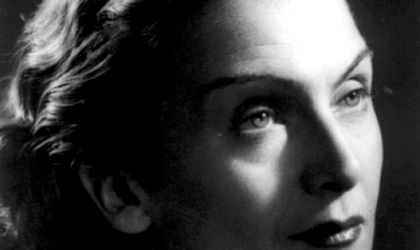 At a loose end? BR brings you the best of Bucharest's cultural highlights for the weekend ahead.
MUSIC
Peer Gynt, opening concert 2013-2014 season
Sala Radio
Friday, October 11, 19.00
Romanian actor Victor Rebengiuc and conductor Tiberiu Soare will open the 2013-2014 season of the Radio Romania Orchestra, preseting together Peer Gynt in Grieg interpretation. Belgian violinist Lorenzo Gatto, soprano Simonida Lutescu and mezzosoprano Antonela Barnat will be on stage, too.
In memoriam Maria Tanase (in picture)
Sala Radio
Sunday, October 13, 17.00
One of the nation's greatest voices, Maria Tanase has been described as Romania's Edith Piaf. September 25 marks a century since her birth, and the date is being commemorated by Radio Folk Orchestra, under the wand of Adrian Grigoras. More details about Maria Tanase, here.
Guitar recital David Martinez
Central University Library
Sunday, October 13, 19.00
On the National Day of Spain, the Cervantes Cultural Institute invites music lovers to a concert held by David Martinez. The program of the night is as follows:
Scarlatti: Sonatas K.208 / K.209
F. Sor: Variaciones sobre un tema de "La Flauta Mágica" de  Mozart
I. Albéniz – Cataluña
I. Albéniz – Granada
I. Albéniz – Asturias
Tárrega: Capricho Árabe
Tárrega: Recuerdos de la Alhambra
Tárrega:  Gran Jota de Concierto
Paco de Lucía: Fuente y Caudal
EXHIBITION
Tani Plana
Cervantes Institute
Until October 30
"No es normal saber nadar", a photo exhibition by Tanit Plana, opens September 26 at the Cervantes Institute in Bucharest. The exhibition includes 40 photos of Bucharest, which the artist explores attempting to erase the boundaries between public and private and to highlight a new reality originating in a new perception of the urban scene.
Illustrator Ada Musat is invited at the opening of the exhibition, where she will draw in an attempt to create a dialogue between drawing and photography. More details about the event here.
Visual Power: 21st Century Native American Artists/ Intellectuals
America 24/7
The National Library
The American Bucharest Corner was inaugurated on June 20 at the National Library and two exhibitions take place: "Visual Power: 21st Century Native American Artists/ Intellectuals." which shows Native American contributions as scholars, professors, museum curators, and writers as well as makers of traditional fine arts, video and photography to document their cultural heritage and their struggle for sovereignty and a second poster exhibit, "America 24/7", accompanied by a book, the result of a project by American author and publisher, David Elliot Cohen, and American photographer, Rick Smolan.  More than 25,000 digital photographers across the U.S. – including 36 Pulitzer Prize winners – responded to the invitation to take pictures of their towns, families, neighbors and friends for 24 hours a day for seven days.  The best photos capturing the diverse authentic America were included in the exhibit. More details, here.
Q.E.D. by Mircea Cantor
The NationalMuseum of Contemporary Art
Until April 2014
More than 1,200 people have attended the opening of the first local solo exhibition of one of the most important young artists to emerge on the international scene over the last decade: Mircea Cantor, winner of the Prix Marcel Duchamp Award 2011. The QED exhibition, the largest survey of the artist's works to date, comprises 30 pieces. More details here.
Oana Vasiliu