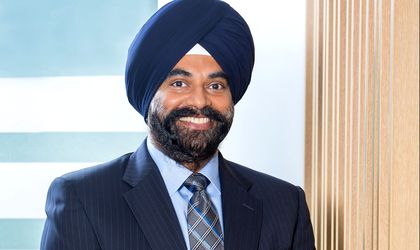 Over the past few years, Vodafone focused on expanding its network coverage, bringing as many Romanians as possible to the smartphone generation and improving customer satisfaction.  Ravinder Takkar, CEO of Vodafone Romania, tells BR that these priorities have not changed. Vodafone invests yearly more than EUR 100 million into its Romanian operations and services.
Otilia Haraga
What is new about Vodafone's strategy in Romania this year?
Our strategy is very simple and it is not changing. The core of our strategy starts with our network. As you know, we have been awarded as the best network in Romania, both on voice and data, for two years in a row (ed. note: certified Best in Test by P3 Communications). The next layer of our strategy concerns everything around the customer, which started off with our strategy to bring all Romanians to the internet through smartphones.  And of course, customer satisfaction continues to be another fundamental layer of our strategy. While the strategy has been very much the same over the past two years, our commitment and promise to customers has become more and more specific and improvement-driven.
Every year, our investments are well north of EUR 100 million. The network has always attracted the bulk of our capital expenditure. I would say that about 70 percent of our investment goes into our network while 30 percent into other things that allow a great customer experience, such as systems, processing, IT and applications.
How would you say your 4G approach is different from that of your competitors?
The strategy that we have taken on our 4G roll-out is to work on what we call "community- of- interest" type of rollout, as opposed to "I want to cover as many people as possible, as quickly as possible." This means that we want our customers to have the best experience on 4G or 4G+ in our coverage areas, as opposed to getting 4G coverage every now and then. In reality, I am happier if you have a great experience on 3G rather than a patchy experience on 4G.
Our network is new and modern, so at this point it does not require an overhaul. I would say that on 2G and 3G, we have very good coverage of 99% of the population, in terms of speed, coverage and customer experience. So, in these cases we just do some fine tuning. On 4G and 4G+, our focus is also offering a good experience, but also expanding the coverage. It depends a little bit on which layer you are talking about, but surely our expansion on coverage is more on 4G and 4G+, whereas on 2G and 3G it is more around getting it perfected.
Do you expect any changes this year in the regulator's position concerning mobile operators' access to fixed broadband infrastructure?
We disagree with the regulator (ed. note: ANCOM), and we have expressed that very clearly. This position does not help Romania improve its current state of digitalization at the pace at which it should. Romania is behind its European peers and other peers across the world, and the regulator's position is not helping. In fact, this is part of the reason why Romania is lagging behind. The targets that Romania committed to achieving by 2020, in our view, will be very difficult, if not impossible, to meet, with the current position of the regulator. But no, I don't expect their position to change. We are currently investing in the coverage of many white areas. Some of them are already part of the legal license obligations that we have. Even though it is unclear whether the investments we are making will give us a return, I still find it to be much better than some of the other investments being made, trying to roll out fixed networks in those areas, because to me it does not make any sense at all.
Are you looking at opportunities regarding entering the TV services market?
It would be silly for me to say that we are not interested in TV services because clearly, TV is an important service from a consumption perspective. But at the same time, offering a subscale service just for the sake of saying that we have a TV service is not something that we are interested in. We had a customer focus group two weeks ago with about 20 of our customers and I asked each one of them how much time they spend watching TV and what their TV habits are – and I was surprised to see how quickly international trends are being adopted in Romania as well. And those trends show that people are not always interested in sitting in front of the big screen on the couch and watching 3 hours of TV every day. People's lifestyle is changing, and where they want to access information from is changing as well. We want to go more where the people are and the trend is towards mobility.
How is the Vodafone store franchise program going?
I think at this time we have more than 150 franchisees. Less than 2 years ago, we had zero. We have many strong franchise partners who have performed really well. Our own Vodafone stores stand at about the same number. We continue to do concept store refurbishments across the country. We need to improve the experience because formats are changing all the time. It is a never-ending process so you never stop investing.
What is the split between SMEs and large enterprises in your customer portfolio?
As far as large companies are concerned, we focus on two segments. On the one hand, we have multinational global accounts. There are about 1,500 companies that we negotiate with centrally, and about 650 of them actually have a presence in Romania. The next segment is that of national corporates, large companies that are limited in footprint to Romania or one or two countries around this space. We have a specific team that works with them. Then, we have SMEs and we also have what we call SoHos (small office, home office types of companies). Generally, SoHos tend to be between 5- 10 employees or less. The SMEs have between 10 and 80 employees. The first thing that the SMEs want is to be treated like a big business. So they ask to be provided with dedicated support, just like a big company, which means that they have a dedicated account manager and a support manager. Secondly, because their scale is smaller, they are actually looking for end-to-end turnkey solutions, whereas large companies are more interested in tailoring things to their internal standards.  SoHos are less solution- oriented, they want to make sure they have good coverage, big data bundles, and sometimes very small, simple applications.
What is new in your network support center?
We have two distinct types of centers in the country – one which is our network operations center that monitors the networks of 10 European countries out of Romania, solving tier-1 problems. We have more than 100 million customers using these networks in these countries. If there is a problem with the site or the signal, they are first dealt with here in Romania. At the latest count, we had more than 600 people taking care of those networks. We continue to add new technical capabilities in the team to fix emergencies better. The second one is the Vodafone Shared Services for IT back-office as well as customer service for customers in other Vodafone European countries. The second center we opened about 18 months ago and we have little more than 1,000 people working there. We have call centers in multiple locations. Besides Bucharest, we have another call-center in Brasov. We will soon open a new call center in Craiova. We also opened up one in Bacau that is also growing. In a few months, we will move our headquarters to a new building in Pipera.
CV Ravinder Takkar, 46
May 2014 – appointed CEO of Vodafone Romania
January 2012 – appointed CEO Vodafone Partner Markets
1994 – joined Vodafone working as EBU Director and Strategy Director of Vodafone India, Group Product Development Manager for Vodafone Live, Chief Technology Officer for Vizzavi and other operating roles in Vodafone Spain and Vodafone Portugal
Acted as board member of Vodafone India and Indus Towers
Before Vodafone, he was management consultant at DMR Group
Holds a Bachelor's Degree in Computer Science from Loyola Marymount University, Los Angeles