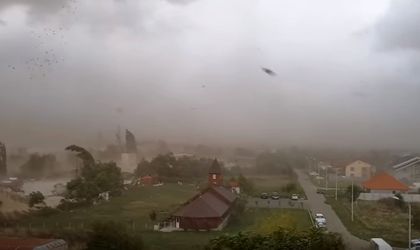 Several counties in the western part of Romania were hit by a strong storm on Sunday afternoon that killed 8 people and injured close to 140 people, according to local media reports.
Power outages were recorded in dozens of localities and cities such as Timisoara, Arad recorded heavy damages following the storm. Rail and road traffic suffered disruptions due to the heavy wind and rain. The wind gusts reached up to 100 km per hour in some areas.
A crisis center was set up in Bucharest to coordinate the rescue efforts in the areas hit by the bad weather. The minister of interior, Carmen Dan, is in charge of this unit, according to PM Mihai Tudose.
"Next week it is mandatory to start implementing an alert system for mobile phones in the area. (…) So who is in the coverage area where a danger is declared, either it is a storm, blizzard, anything, even chemical alert or fire, to automatically receive this alert on their mobile phones," said Tudose.
Meanwhile, president Klaus Iohannis expressed his condolences to the families of those killed in the storm, adding that authorities have to manage the crisis situation in an efficient manner.
Representatives of Romania's weather agency ANM said the country was not hit by tornadoes, according to radar imagery. The authority issued alerts for bad weather before the storm went on course in western Romania.