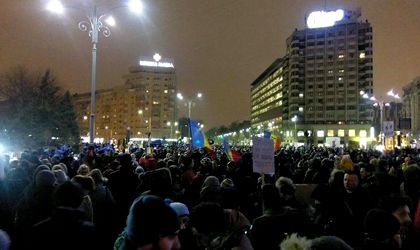 Tens of thousands of Romanians took to the streets in the country and abroad in what was dubbed as the biggest protest recorded in the country since the fall of communism in December 1989, according to local media reports.
Over 40,000 people swarmed the streets in Bucharest, whole over 10,000 protesters were recorded in Timisoara and Cluj-Napoca cities. Smaller crowds were recorded in other cities, while several hundred people have also protested in Bruxelles, Paris, Hamburg, London and Zurich.
The peaceful protests were triggered by the plans of the center-left government led by Sorin Grindeanu to amend the legal framework, which could derail the country's anti-corruption efforts.
Video by Victor Cozmei (HotNews) – All rights belong to owner
The government formed by the PSD-ALDE coalition wants to enact a pardon bill, which would free up to 3,000 prisoners. In addition, the Ministry of Justice wants to amend the Penal Code and Penal Procedure Code.
The country's anti-graft department (DNA) said these planned changes would hit its investigations into corrupt officials. Meanwhile, president Klaus Iohannis said these changes would "whiten" the files of corrupt politicians. He also initiated procedures for a referendum on the country's anti-corruption campaign.
Despite the massive protests, PM Grindeanu said on Sunday evening that his government would not back down and that the draft bills would still be approved directly by his cabinet or through the Parliament, which is also controlled by the PSD-ALDE coalition.
The people that attended the protests have asked for the resignation of the minister of justice, Florin Iordache, and for the withdrawal of the pardon draft bill.
On Monday, the Ministry of Justice was due to hold a public debate on the planned changes to the legal framework.
Ovidiu Posirca
Photo source: HotNews.ro.