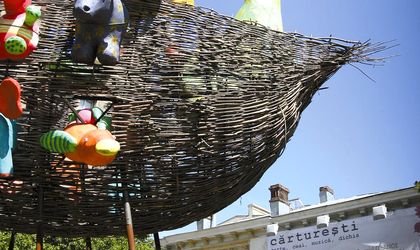 The eighth edition of Street Delivery starts June 14 when Verona Street in Bucharest will be closed to cars and will only allow access to pedestrians and to bicycle users. Concerts, fairs, workshops and open-air feel-good activities are all part of the program. Many other creative events such as movies, performing arts, civil society manifestations, design and press delivery will take place in the same weekend.
Street Delivery is an event-manifesto of urban-planning, architecture and art which aims the recovery of the town for pedestrians and community. This year, the event will mark four indicators, environmental protection, social development, economic development and good governance, under the theme "Heritage and quality architecture".
According to the official press release, two and a half million cars circulate daily through Bucharest, meaning 16 cars per parking space. The street disappears and appears instead the rush to go to work, shopping or gas station. There's no place to linger or stroll, meeting or game. That is why Street Delivery blocks the Verona Street for one weekend and returns it to pedestrians and bicycle users.
Street Delivery promotes a city of joy which favors its inhabitants, who need the same attention as the other traffic's participants. Moreover, Street Delivery is a lobby initiative targeting the Bucharest City Hall. It calls for the widening of sidewalks across Bucharest, the creation of a pedestrian cultural passage on Arthur Verona Street zone which will be extended to Icoanei Garden Park. The event's wide array of artistic activities takes place annually on Arthur Verona Street, which is closed to motor vehicles, allowing access only to pedestrians and cyclists. At previous editions, Street Delivery attracted between 20,000 and 30,000 visitors.
More information about the program is available here.
Oana Vasiliu