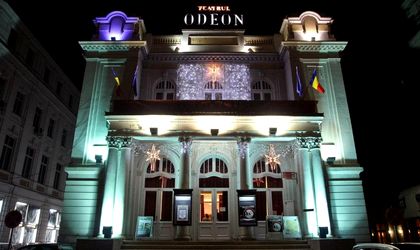 The first week of 2013 will bring theatre lovers to Odeon Theatre, for some unconventional performances, as follows:
On January 4, from 19.00, Un Tango Mas – directed by Alexandru Dabija, with Răzvan Mazilu and Monica Petrică in the leading roles. The performance features TangotangenT Club, coordinator Daniel Mandiță, Amalia Iscu, Anisia Popescu, Cristina Pătru, Monica Șurubariu, Lucian Stan, Gilbert Iscu and Laurențiu Lungianu. According to Daniel Mandiță "Tango is not a gregarious dance, but a proud and individual one. Dancing tango is truthfull as well as fully devoted, and a good dance is one that you remember many days after the milonga – just like a good play you saw one evening."
On January 5, from 19.00, When she danced – by Martin Sherman, directed by Răzvan Mazilu. When She Danced was first performed at the Yvonne Arnaud Theatre, Guildford on 27th November 1985, directed by Robert Allan Ackerman and had itsLondon première on 19th September 1988 at the King's Head Theatre, Islington, directed by Tim Luscombe. In 1991, Robert Allan Ackerman revisits the text for The Globe Theatre in London, with Vanessa Redgrave and Oleg Menshikov in the leading roles. The premiere inNew York took place on 19 February 1990, at Playwrights Horizon. Răzvan Mazilu staged the play also in 2009, at Meli Theatre in Athens, with Dimitra Hatoupi and David Maltese in the leading roles.
On January 5, from 19.30, at Sala Studio, I'm coming back from far away – by Claudine Galea, directed by Theo Herghelegiu. I'm Coming Back from Far Away (2003) is written as a musical score, with foreplay, improvisation, first, second and third movement. The author indicates, moreover, that if there is a piano on stage, it should be transparent. The construction of the play is very particular, exploded, strips of voices are talking to each other, songs are played, dialogues are disturbed by interior monologues, the neighbors change their views… A whole universe of voices seeking to make visible the invisible.
On January 6, from 19.30, at Sala Studio, Tlicked, by Gabriel Pintilei, directed by Alexandru Mihail. The show can be performed with subtitles in English. If you are interested, you should email Odeon Theatre at least two days before the show.
Oana Vasiliu