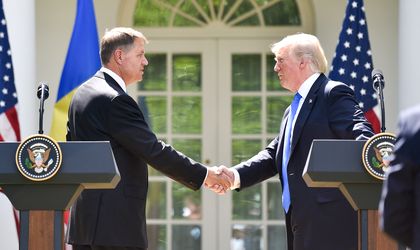 US president Donald Trump said during a joint press conference with president Klaus Iohannis that the US is strongly supporting Romania's campaign to clamp down on corruption.
"Well, we support very strongly Romania. And therefore, obviously we do support that fight on anticorruption.  We will always support that. And we support your President. We think he's done an outstanding job. Very popular, very solid, working very hard. We know everything that's going on. And, yeah, and he's going to win that fight. He's going to win that battle. But he has our support," said Trump.

He added that there is  a growing number of American companies that invest in Romania and this shows "very, very big progress."
"And there really are a lot of congratulations in store. But a lot of people are investing from our country to yours," said Trump.
Meanwhile, president Iohannis stated that the strategic partnership with the US "shaped Romania as it is today", with a solid democracy and sustainable economic growth.
"And I think this partnership not only has to continue, this partnership has to become stronger.  This partnership has to define our bilateral relation, and this partnership has to contribute to solve so many problems," said Iohannis.
The two heads of states mentioned Romania's decision to increase its defence spending to 2 percent of GDP this year, underlining the importance of NATO. President Iohannis went on to say there shouldn't be a competition between NATO and the EU.
"Make NATO stronger. Make Europe stronger. Make the United States of America stronger," said Iohannis, who met earlier with Rex Tillerson, US Secretary of State.