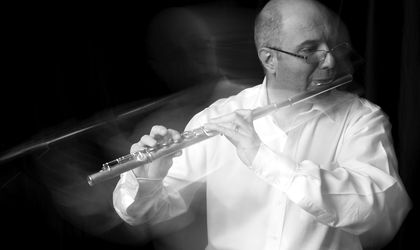 When an exceptional instrument such as the golden flute meets the piano, a special concerto awaits. Two classical musicians, flautist Ion Bogdan Stefanescu, an excellent storyteller through music, and pianist Horia Mihail, a multifaceted performer, have started their third journey around Romania, presenting some musical jewels and encores of all eras, from Baroque to modern. BR chatted with Stefanescu about the magic of the flute and his expectations for this tour.
By Oana Vasiliu
Where did the idea of ​​the Golden Flute tour come from?
I knew that the Romanian Radio Society was already organizing nationwide classical music tours with impressively old musical instruments: the pianos from the basement of the building that Horia Mihail brought to life and the old violins played by famous violinists like Alexandru Tomescu and Gabriel Croitoru. I had this amazing golden flute, and I felt like being part of these tours, promoting this incredible instrument: the Rolls Royce of flutes, a true work of art designed by the Japanese company Muramatsu, a product of 18k gold, the only one in Romania.
Why did you choose the piano as the attendant instrument?
Firstly and most importantly, most composers have created pieces for flute and piano. Then, because piano sounds can replace the whole orchestra – or an entire orchestra can be heard by only listening to the piano.
How did your association with the pianist Horia Mihail come about?
I met Horia when we were both studying at the University of Illinois, where we also shared a room. After 15 years, our musical careers crossed so we decided to do this tour together – although he already had his own tour, the Traveling Piano.
What is the program for this year's tour?
I worked very hard on this program, which I wanted to be very entertaining and to literally make listeners dance, if they feel like it. In sections of three-four minutes, I am proposing a journey through the history of music, from Baroque, Classicism and Romanticism, via today's music with spectacular examples of jazz, film soundtracks and folklore. The program consists of J.S. Bach, Badinerie; M. Marais, Le Basque; A. Vivaldi, Largo (Winter); G.Fr. Handel, Arrival of the Queen of Sheba; J. Haydn, Serenada; W.A. Mozart, Alla turca; L. van Beethoven, Turkish March; Fr. J. Gossec, Tambourine; R. Schumann, Traumerei; B. Godard, Allegretto; Ricardo Eugenio Drigo, Serenada; Fr. Chopin, Minute Waltz; A. Dvorak, Humoresque; P. Tchaikovsky, Serenada; N. Rimski-Korsakov, Flight of the Bumblebee Cl. Debussy, The Girl with the Flaxen Hair; A. Jolivet, Capers; S. Rachmaninov, Vocalize; Fr. Kreisler, The Beautiful Rosemary; S. Barber, Canzone; G. Gershwin, I Got Rhythm; H. Mancini, Pie in the Face Polka and, of course, something from the repertoire of our great jazzman Johnny Raducanu, The Cimbaloms' Game.
Where will the tour take place?
We will travel from Bucharest to the west of the country, Oradea, and then back to the east, to Tulcea, as follows: May 27, Craiova; May 28, Caracal; May 31, Pitesti; June 3, Ploiesti; June 5, Bucharest; June 12, Oradea; and June 14, Tulcea.
The Bucharest concert will take place at Sala Radio, on June 5, at 19.00. Tickets are available online at www.bilete.ro.