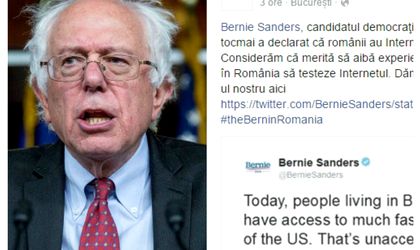 Online travel agency Paravion said it would pay for the plane ticket of Vermont senator Bernie Sanders, to visit Romania, after he was heavily criticized for a tweet regarding the internet speed in Bucharest.
"We think that he should have the full experience so we are officially inviting him in Romania to test the internet. We are providing the plane tickets," said the agency of its Facebook page.
Sanders got in a Twitter row with Romanians after he said in a tweet it was "unacceptable" that people living in Bucharest have access to much faster Internet than most of the US.
Bernie Sanders is currently seeking to secure the nomination of the Democratic party for the presidential race. He is competing against former state secretary Hillary Clinton.
Ovidiu Posirca
You might also like: