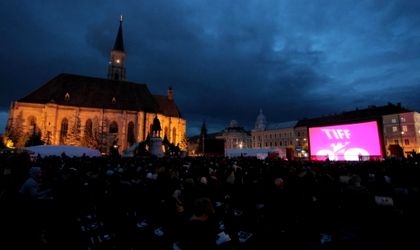 Cluj-Napoca was the talk of the cultural world for ten days, during which the Transilvania International Film Festival (TIFF) screened over 217 movies from 55 countries complemented by countless related events such as exhibitions, concerts, master classes, debates and parties. As even the most ardent cinephile cannot chalk up all 217 films in ten days, BR asked the artistic director of the event, Mihai Chirilov, for his highlights, some of which are being screened in Bucharest starting today.
Oana Vasiliu
Stephen Frears's Philomena and Richard Linklater's Boyhood were the two must-sees in this year's selection, and Chirilov also strongly recommends a film he discovered last year that was produced in the 60s. The TIFF director describes Before the Night is Over, from director Peter Solan, as "a revelation – the kind of film the cinema was invented for".
Chirilov, whose aim through the festival was to discover distinctive voices, calls the 12 movies that screened in competition an organic whole in which each film has its place. The line-up is: Blind (directed by Eskil Vogt), Everything We Loved (Max Currie), Fish & Cat, (Shahram Mokri), Floating Skyscrapers (Tomasz Wasilewski), Paat (Amir Toodehroosta), Quod Erat Demonstrandum (Andrei Gruzsniczki), Still Life (Uberto Pasolini), The Voice of the Voiceless (Maximón Monihan), Viktoria (Maya Vitkova), Vis-à-vis (Nevio Marasović) and White Shadow (Noaz Deshe).
Of the 34 movies selected in the Supernova category, Chirilov particularly endorses ten: Of Horses and Men, The Empty Hours, Ida, Siddharth, Love is Strange, We are the Best!, The Kidnapping of Michel Houellebecq, Beloved Sisters, Paupusza and Black Coal, Thin Ice.
This year's TIFF also ventured into extreme territory, with Chirilov highlighting the Swedish film Something Must Break, whose director came to Cluj to explain his work. Other challenging works included Moebius, in which Korean director Kim Ki-duk goes beyond all limits to tell a remarkably well shaped story given the absence of any dialogue; R100, from Japanese director Matsumoto; and New Tits, in which the viewer follows Sacha Polak in her exploration (with some comic moments) of the effects of breast cancer.
The What's Up Doc section presented 15 real-life stories, covering topics from drug addiction (Sickfuckpeople) and prostitution (Julia) to people with disabilities (The Special Need) and porn cinema (Paradiso), as well as the extraordinary lives of Nick Cave (20,000 Days on Earth), Muhammad Ali (The Trials of Muhammad Ali) and two brides (Off Road).
Diverse and courageous work was to be found in the Young German Cinema section, from the unusual chemistry between the protagonists in Love Steaks to the sexual tribulations of the female character in Wetlands, as well as real punch-in-the-stomach movie Nothing Bad can Happen.
From June 10-19, Bucharest will host a retrospective of TIFF, at Cinema Studio, Cinema Elvira Popescu and J'ai Bistrot. Almost 50 films will be shown in the capital, including the 12 films that screened in competition. Highlights will be Black Coal, Thin Ice; Sacro GRA; Bad Hair; Historia de la meva mort; We are the Best!; Ida, Canibal; Philomena; Via Castellana Bandiera; Beloved Sisters; Before Tonight is Over; La gran familia española; and Viva la liberta!.
Vlad Petri's documentary about the street movement Salvati Rosia Montana, Bucuresti, unde esti? (Bucharest, Where are You?) will premiere on June 13 at Cinema Studio.
A ticket costs RON 12 at Cinema Studio, RON 14 at Cinema Elvira Popescu and RON 10 at J'ai Bistrot.
Full program:
June 10
CINEMA STUDIO
12:30 – Între două surori/ Beloved Sisters, d.: Dominik Graf (Germany)
16:00 – Ultima noapte/ Concrete Night, d.: Pirjo Honkasalo
18:00 – Balul pompierilor/ The Firemen's Ball, d.: Miloš Forman (Czechoslovakia, Italy)
19:30 – Philomena, d.: Stephen Frears (UK)
21:30 – 12 ani de copilărie/ Boyhood, d.: Richard Linklater (USA)
June 11
CINEMA STUDIO
12:00 – Un pact/ A Pact, d.: Denis Dercourt (Germany, France)
14:00 – Sex, droguri și impozite/ Sex, Drugs and Taxation, d.: Christoffer Boe (Denmark)
16:00 – Freză nasoală/ Bad Hair, d.: Mariana Rondón (Venezuela, Peru, Germany)
18:00 – Umbra albă/ White Shadow, d.: Noaz Deshe  (Italy, Germany, Tanzania) – Special mention of the jury 2014
20:15 – Înainte de sfârșitul nopții/ Before the Night is Over, d.: Peter Solan (Czechoslovakia)
22:00 – Canibal / Cannibal, d.: Manuel Martín Cuenca (Spain, Romania, Russia, France)
CINEMA ELVIRE POPESCO
18:00 – Distrușii/ Sickfulpeople, d.: Juri Rechinsky (Austria, Ukraine)
20:00 – Venus înveșmântată în blănuri/ Venus in fur, d.: Roman Polanski (France, Poland)
June 12
CINEMA STUDIO
12:00 – Pionier/ Pioneer, d.: Erik Skjoldbjærg (Norway, Germany, Sweden, France, Finland)
14:00 – Copiii preotului/ The Priest's Children, d.: Vinko Brešan (Croatia, Serbia)
16:00 – Pe o stradă din Palermo/ A Street in Palermo, d.: Emma Dante ((Italy, Switzerland, France)
18:00 – Câinele/ Paat, d.: Amir Toodehroosta (Iran) – Special mention of the jury 2014
20:00 – București, unde ești?, d.: Vlad Petri (Romania)
22:00 – Sex shop-ul/ Adult World, d.: Scott Coffey (USA)
CINEMA ELVIRE POPESCO
18:00 – Sfântul GRA/ Sacro GRA, d.: Gianfranco Rosi  (France, Italy)
20:00 – Băieții din Est/ Eastern Boys, d.: Robin Campillo (France)
June 13
CINEMA STUDIO
12:00 – București, unde ești?, d.: Vlad Petri (Romania)
14:00 – Trăiască libertatea! / Viva la Liberta!, d.: Roberto Andò (Italy)
16:00 – București, unde ești?, d.: Vlad Petri
18:00 – Ce-am avut mai de preț/ Everything We Loved, d.: Max Currie (New Zeeland)
20:00 – Quod Erat Demonstrandum, d.: Andrei Gruzsniczki (Romania)
22:15 – București, unde ești?, d.: Vlad Petri (Romania)
CINEMA ELVIRE POPESCO
18:00 – Casa Radio/ La Maison de la Radio, d.: Nicolas Philibert (France)
20:00 – Dacă tu nu, eu da/ Arrête ou je continue, d.: Sophie Fillières
June 14
CINEMA STUDIO
12:00 – București, unde ești?, d.: Vlad Petri
14:00 – Nuntă în ofsaid/ La gran familia espanola, d.: Daniel Sánchez Arévalo (Spain)
16:00 – București, unde ești?, d.: Vlad Petri
18:00 – Vocea celor neauziți/ The Voice of the Voiceless, d.: Maximón Monihan (USA)
20:00 – Natură Moartă/ Still Life, d.: Uberto Pasolini (UK, Italy) – Public Award 2014
22:00 – București, unde ești?, d.: Vlad Petri
CINEMA ELVIRE POPESCO
14:00 – Alfabet/ Alphabet, d.: Erwin Wagenhofer (Austria)
16:00 – A fi și a avea/ Être et avoir, d.: Nicolas Philibert (France)
18:00 – București, unde ești?, d.: Vlad Petri
20:00 – Spuma zilelor/ Mood Indigo, d.: Michel Gondry (France, Belgium)
June 15
CINEMA STUDIO
12:00 – București, unde ești?, d.: Vlad Petri
14:00 – Ida, d.: Pawel Pawlikowski (Poland)
16:00 – București, unde ești?, d.: Vlad Petri
17:30 – Viktoria, d.: Maya Vitkova (Bulgaria, Romania) – Special mention of the jury 2014
20:30 – Stockholm, d.: Rodrigo Sorogoyen (Spania) – Transylvania Award 2014
22:15 – București, unde ești?, d.: Vlad Petri
CINEMA ELVIRE POPESCO
14:00 – Paradiso, d.: Omar Al Abdul Razzak, (Spain)
16:00 – Nenette, d.: Nicolas Philibert, (France)
18:00 – București, unde ești?, d.: Vlad Petri, (Romania)
20:00 – Ținutul meu sălbatic/ My sweet pepper land, d.: Hiner Saleem, (France, Germany)
J'AI BISTROT
21:00 – București, unde ești?, d.: Vlad Petri, (Romania)
June 16
CINEMA STUDIO
12:00 – Profetul, aurul și ardelenii, d.: Dan Piţa, (Romania)
14:00 – București, unde ești?, d.: Vlad Petri (Romania)
16:00 – Peștele și Pisica/ Fish and Cat, d.: Shahram Mokri, (Iran)
18:30 – București, unde ești?, d.: Vlad Petri (Romania)
20:00 – Despre Oameni și Cai/ Of Horses and Men, d.: Benedikt Erlingsson, (Island, Germany)
22:00 – Spărgătoarea de bănci/ Banklady, d.: Christian Alvart, (Germany)
June 17
CINEMA STUDIO
12:00 – Artista, Dolarii și Ardelenii, d.: Mircea Veroiu (Romania)
14:00 – București, unde ești?, d.: Vlad Petri, (Romania)
16:00 – Zgârie-nori suspendați/ Floating Skyscrapers, d.: Tomasz Wasilewski, (Polonia) – Best Directing Award
18:00 – București, unde ești?, d.: Vlad Petri, (Romania)
20:00 – Artificii în plină zi/ Black Coal, Thin Ice, d.: Diao Yinan, (China, Hong Kong)
22:15 – Calea deșertului/ Tracks, d.: John Curran, (Australia, UK)
June 18
CINEMA STUDIO
12:00 – Pruncul, Petrolul și Ardelenii, d.: Dan Piţa, (Romania)
14:00 – București, unde ești?, d.: Vlad Petri, (Romania)
16:00 – Vis-a-Vis, d.: Nevio Marasović, (Croatia)
18:00 – București, unde ești?, d.: Vlad Petri (Romania)
20:00 – Suntem cele mai tari!/ We are the best!, d.: Lukas Moodysson, (Sweden, Denmark)
22:00 – Suntem Mari Pepa! / We are Mari Pepa!, d.: Samuel Kishi Leopo (Mexico)
June 19
CINEMA STUDIO
12:00 – Povestea morții mele/ Historia de la meva mort, d.: Albert Serra, (Spain, France)
15:00 – Marketa Lazarova, d.: František Vláčil, (Czechoslovakia)
18:00 – Întâlniri pe neve/ Blind, d.: Levan Koguashvili, (Georgia)
22:00 – Inamicul/ Enemy, d.: Denis Villeneuve, (Canada, Spain)