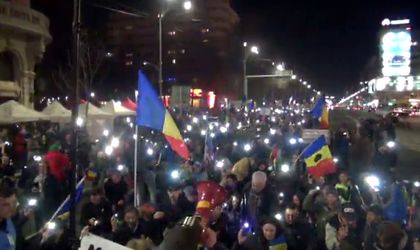 Up to 10,000 people swarmed the streets of Bucharest on Sunday evening in support of Romania's anti-corruption efforts.
The people rallied under the banner of an event called "We support the DNA, we want the depoliticizing of institutions".
Thousands of people had initially gathered in front of the government building, where they continued to ask for the resignation of PM Sorin Grindeanu. Next, they marhed through the city center with planned stops at the Parliament, the Ministry of Justice and the HQ of the National Anti-corruption Directorate (DNA).
Several hundreds of people returned to Victoriei Square where they sand the national anthem.
The DNA, which is currently led by Laura Codruta Kovesi, has prosecuted a series of high-ranking politicians in the past years, including former PM Victor Ponta, ex-MP Elena Udrea and former mayor of Constanta, Radu Mazare. The anti-graft prosecutors have also investigated media moguls Sorin Ovidiu Vintu, Dan Adamescu and Dan Voiculescu.
The protests against the center-left government led by the PSD-ALDE coalition have erupted at the end of January, over the approval of controversial amendments to the Criminal Code, which were later scrapped.
Meanwhile, president Klaus Iohannis said he would initiate a referendum regarding Romania's anti-corruption efforts, but this move was put on hold, according to media reports.
Photo by HotNews.ro – all rights belong to owner