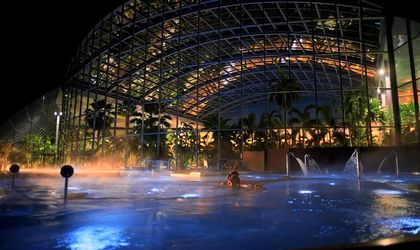 Therme Bucharest has counted 55,000 visitor in the two weeks since it opened, representatives announce, as quoted by Mediafax.
The company plans further investments on expanding areas and functionality offer. The first such extension will be applied to the Galaxy area, dedicated to families, which will benefit from added spaces to be open during March and June this year.
"With an additional investment that will amount to about EUR 6 million until the middle of this summer, the Galaxy area will be expanded with an outdoor pool with a pool bar, a restaurant with a capacity of 500 seats, an additional area seating 450 loungers and a new slide," a company statement reads.
Therme Bucharest, a wellness and relaxation center using thermal waters, is the result of a EUR 50 million investment made by A-Heat. It opened on January 14 and developers claim it is the largest of its kind in Europe.
Built on greenfield land just outside of Bucharest in the Balotesti locality, with a total surface of 30,000 square meters and a capacity of 4,000 simultaneous people, Therme Bucharest extracts its water from a depth of 3,100 meters. The temperature in the pools reaches 33 degrees Celsius, while that of the air is between 29 and 30 degrees Celsius.
Natalia Martian