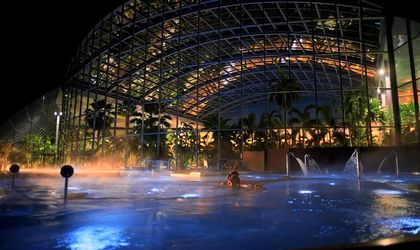 Austrian A-Heat will invest EUR 6 million to extend Therme Bucharest, its thermal resort near Bucharest, according to Mediafax.  The money will go into extending the resort's family area (Galaxy) by building an outdoor pool and pool bar, a 500-sit restaurant, 450-sunbed relaxing area and a water slide. All these are scheduled for delivery between March and June.
This extension has been previously announced, but the company says it has begun works earlier than initially planned due to positive results posted since opening the resort in January.
"The results we have after the first two months confirm the initial premises on which we have based this project. We are getting close to 200,000 visitors sooner than planned and we have already extended our team to over 400 employees – something which we estimated we will reach after 9 months. We have also started works on extending the project 6 months sooner than initially estimated," said Christian Weiser, CEO of A-Heat.
Therme Bucharest was opened this January and it has three main areas, the Galaxy area being the only one where children up to 16 years old are allowed. The other two are Elysium and Palm, where children under 3 years old are only allowed when accompanied by parents.
The investment started in 2013 with EUR 29.64 million when the construction of Therme Bucharest began, reaching approximately EUR 50 million by the end of the project, and was financed by Austrian A-Heat Group, according to wall-street.ro. Therme Bucharest also receivedEUR6.6 million in state aid from the Romanian Ministry of Public Finances (MFP), according to a Facebook post on the Ministry's official page from December 18, 2015.
Simona Bazavan