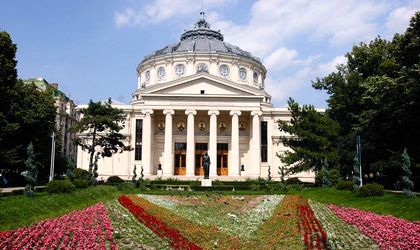 September begins with the George Enescu International Competition, Romania's sole classical music contest of international renown. The event – a companion to the biennial festival – keeps the composer's spirit alive by providing a platform for the younger generations of musicians he inspires. More than 230 young artists from 36 countries applied to take part. From Romania, ten violinists, fourteen pianists and two cellists will compete. With 81 participants, the piano contest will be the toughest, with the violin and cello sections having 64 and 34 competitors respectively. Moreover, 41 musical works have been submitted for the composition section. Participation is up 20 percent on 2011. The youngest Romanian contestant is violinist Mircea Dumitrescu, who, at 16, is also the second-youngest competitor overall, after Briton Stephanie Childress, 15, a fellow violinist. The competition runs from September 6-27, at the Romanian Athenaeum and the National Music University. Admission to the concerts and recitals was free based upon online registration, but all seats have now gone.
Mid-September brings the Balkan spirit to Bucharest when Shantel & Bucovina Club Orkestar, Čači Vorba, Django Lassi, Kottarashky and The Rain Dogs, Mahala Rai Bandaand Kiril Djaikovski ft TK Wonder & Ghetto Priest will converge on the little known Uranus Garden for the BalKaniK! Festival. The fourth run of the event, which begins on September 12, comprises three days and three nights of energetic concerts and arts and crafts workshops at Uranus Garden, a hidden courtyard in the heart of Bucharest, surrounded by surreal-looking architecture from the 19th century that survived the communist urban planning of the 1980s. Tickets cost RON 65 for one day or RON 130 for a full subscription.
Towards the end of the month, from September 20-27, Bucharest will host the second edition of RadiRo – Radio Orchestras International Festival. The event will bring to the capital five radio orchestras, along with internationally renowned soloists and conductors. The Finnish Radio Symphony Orchestra, Prague Radio Symphony Orchestra, Stuttgart Symphony Orchestra, Orchestre National de France and the Romanian Radio National Orchestra will play under the baton of world acclaimed conductors Joshua Weilerstein, Ondrej Lenárd, Stéphane Denève, Case Scaglione, Vassily Sinaisky, Tiberiu Soare and Cristian Mandeal. Pianists Jonathan Biss, Jan Simon and Horia Mihail violinists Alexandru Tomescu, Nikolaj Znaider and Vadim Gluzman, soprano Katarina Jovanovic and mezzo-soprano Ruxandra Donose are among the virtuosos due to perform. Tickets for individual concerts are still on sale at prices from RON 60-100.
Oana Vasiliu