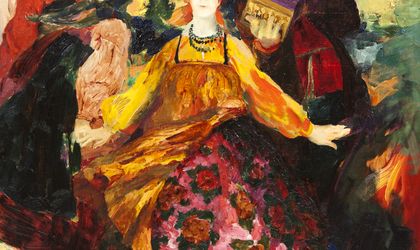 Until April 28, the exhibition "Between East and West. Russian painting from the MNAR Collections Fund 16-20th century" will go on display at the Kretzulescu Hall, at MNAR. The exhibition presents Russian art works – 3 icons and 28 painting from the European and Decorative Arts Museum – significant works from the 16-20th centuries. The exhibition's curator is Mariana Dragu, an expert at the MNAR European and Decorative Arts Section.
For the first time in more than 20 years, the exhibition brings to public attention a very valuable and carefully preserved and restored heritage. Some of the selected paintings show representative examples in the development of the painting school which started out under the influence of Byzantine art.
Marked until the late 19th century by the influence of painters such as Theophanes the Greek or Andrei Rublev, Russian painting combines old traditions and Western European influences, using technical refinement in the process. It is known that the 18th century Peter the Great-imposed reforms that marked the beginning of modern Russia but also the decline of Byzantine style in Russian painting. These effects were the base for setting up the Russian easel art painting school and the first Western European art collections.
The new generation of Russian painters of the 19th century brings Russian art in sync with the European artistic trends and movements. "Autumn on the Volga" by Konstantin Ivanovici Gorbatov, "Landscape with People" by Ilia Efimovici Repin, "Caucasian Interior" by N. Sacilov are some masterpieces that reveal in the most realistic style Russia's nature and ordinary people. Other sources of inspiration were literature, folk customs and traditions in an attempt to depict the specificity of the "Russian spirit", as seen in "Russian Dance" (in picture) by Filip Andreevici Maliavin.
The exhibition can be visited from Wednesday to Sunday, 10.00 am – 6.00 pm. A ticket costs RON 4.
Oana Vasiliu