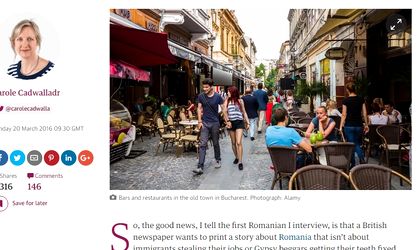 The British newspaper The Guardian has published a piece on the way in which Romania has changed in the past two decades.
The publication also explains how Romanians got bad press in the British media based on wrong information.
"In fact, the survey doesn't say that, exactly, but it's not far off. It says that of all the countries in Europe in which we would least like to live, the very worst place – cited by a massive 25% of all respondents, leaps and bounds ahead of anywhere else – is Romania. That as a nation, we believe Romanians are "aggressive" and "lazy". That hardly any of us have actually been there (fewer than 1% in the last five years). And a massive 58% of us believe that Romania is one of the five EU nations that has sent the most migrants to the UK.
Which may give some clue as to what's going on here. Because it turns out that not only do we know hardly anything about Romania but what we do know isn't even true. In fact, there are fewer than 100,000 Romanians in Britain. (Compared with nearly 700,000 Poles, for example). Figures from 2014 show that fewer than 2,500 of them claimed benefits here. They are overwhelmingly net contributors to the British economy", according to the piece.
Read more on theguardian.com.