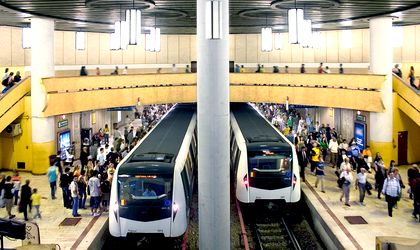 The minister of Transport, Dan Costescu, says the new subway line linking Bucharest to the Henri Coanda Airport in Otopeni could be finished in the next four year, but only if the construction works are started this year.
Costescu said there is already a railway link with the airport in northern Bucharest. He added the government is looking at building a new railway commuter line between the airport and Bucharest.
"Of course, the subway has another type of traffic, other speeds, and the way in which it is designed now it will serve a satellite neighborhood such as Otopeni, which will become very important and for which the traffic will be justified. It will serve the commercial center and the office centers on its route," said Costescu in an interview for Pro TV.
The minister pointed out the new line will be finished by 2020, in a "very optimistic scenario".
Costescu said that Romania got a loan from the Japanese to kick start the project, but the financing, which would cover 25 percent of the construction works, was not used in the last five years.
In fact, Romania has started to pay penalties worth around EUR 300,000 annually, because it did not use the money, according to the official.
"We are starting the project now and we will do it in stages so that it can't be stopped. We have drawn up a plan and by April we should have all the analysis ready from the City Councils. The objective is that during my mandate which expires in November or December, we will have launched the acquisition procedures for the infrastructure works, tunnels and for the architectural and installation works alongside the tunnel," said Costescu.
Romania is supposed to finish the metro line by 2020, when it will host four matches from the European Football Championship.
Ovidiu Posirca