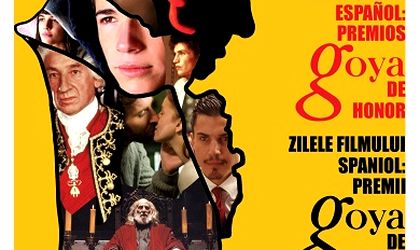 Seven films that have received Honorary Goya awards will be shown during the Spanish Film Days, set to take place October 13 to 16 at Cinema Studio in Bucharest.
The Honorary Goya awards are presented in recognition of the lifetime work of a filmmaker in any discipline. The film artists presented at this edition are directors Mario Camus, Antonio Mercero and Josefina Molina, and actors Manuel Aleixandre, Alfredo Landa, José Luis López and actress Concha Velasco. The films shown were selected looking at presenting artists who have either marked a new style or have made crucial contributions to Spanish cinema.
The event is presented by the Cervantes Institute in Bucharest, in collaboration with the Spanish Academy of Arts and Cinematographic Sciences (Academia de las Artes y las Ciencias Cinematográficas de España), the Institute of Cinematography and Audiovisual Arts (Instituto de la Cinematografía y de las Artes Audiovisuales) and the Spanish Agency for International Development Cooperation (Agencia Española de Cooperación Internacional para el Desarrollo).
The films will be shown in their original Spanish version, with Romanian and English subtitles. Tickets are available at the Cinema Studio box office, priced RON 10 a full ticket and RON 7 within a subscription.
The program of the Spanish Film Days
Monday, October 13, 19.00
BIENVENIDO A CASA, Spain, 2006
Directed by David Trueba
Honorary Goya: Concha Velasco
Tuesday, October 14, 18.00
ESQUILACHE, Spain, 1989
Directed by Josefina Molina
Honorary Goya: Josefina Molina
Tuesday, October 14, 20.00
EL PRADO DE LAS ESTRELLAS, Spain, 2005
Directed by Mario Camus
Honorary Goya: Mario Camus
Wednesday, October 15, 18.00
PLANTA 4ª, Spain, 2002
Directed by Antonio Mercero
Honorary Goya: Antonio Mercero
Wednesday, October 15, 20.00
LUZ DE DOMINGO, Spain, 2007
Directed by: José Luis Garci
Honorary Goya:Alfredo Landa
Thursday, October 16, 16.00       
MEMORIAS DEL ÁNGEL CAÍDO, Spain, 1997
Directed by Fernando Cámara and David Alonso
Honorary Goya: José Luis López Vázquez
Thursday, October 16, 18.00
CABEZA DE PERRO, Spain, 2006
Directed by Santi Amodeo
Honorary Goya:Manuel Aleixandre